People Moves: Rogers Radio, Rouge Media, Zoom and more
Paul Kaye and Dave Cadeau have been promoted to new roles at Rogers Radio and Zoom Media has added two account reps, plus more people on the move.
Two new positions added at Rogers Radio
Rogers Radio has announced two new positions. First off, Paul Kaye (pictured right) has been promoted to VP of product and talent development. Kaye has been with Rogers for just over a year, working until now as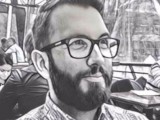 national format director, CHR (contemporary hit radio), national talent coach and program director for KiSS 92.5.
His new role is an evolution of the position held by Rob Farina – VP of content and programming position – who left for Bell Media last spring. Since then the role has expanded to include a focus on talent development. Kaye will remain in his current role until a replacement is named.
Also promoted is Dave Cadeau, who has been named national format director, sports. The new role expands Cadeau's current responsibilities as program director of Toronto's Sportsnet 590 The FAN to include all of the company's sports radio stations across Canada. That includes the upcoming Sportsnet 650, which goes to air in September.
Rouge Media names new marketing manager
Location-based OOH advertising company Rouge Media has hired a new marketing manager, naming Haem Roy to the role. She will be working out of the company's Toronto office and handling partnerships for Canadian and U.S. clients. Roy has over a decade of experience in media, working mainly in India. Her most recent position was in marketing and client solutions at 21st Century Fox (Star India), managing the English entertainment portfolio of channels.
Zoom Active Lifestyle Marketing adds two
There are two new additions to the Zoom Active Lifestyle Marketing offices. Joining the Montreal team is Charles-André Vidal as a national account director. Vidal will be responsible for developing national digital sales for Quebec. He has previously held positions at Rouge Media, as well as Audi and Mini on the client side.
Also joining is Brenda Grajales, who will work as an account director out of the Toronto office. Grajales will work with the internal sales representatives to coordinate ad campaigns with fitness partners and their accounts.
Groupe V Media appoints new director of communications and PR
Michaël Majeau has joined Groupe V Media as director of communications and PR. Majeau will be responsible for developing and managing all communications strategies related to the promotion of the group's properties. Majeau previously worked as head of communications at Corus Entertainment in Quebec. He joins Groupe V Media on August 7.
Think Mint Media adds account director
Vancouver-based media agency Think Mint Media has added Chris Phillips as an account director. He comes to the agency with over 15 years of experience, working both client- and agency-side. He most recently worked as director of media at Red the Agency.