Spotted! RBC brought a rink to the golfing green
The title sponsor of the Canadian Open brought some Canadiana to the seventh hole.
Fans and golfers watching the RBC Canadian Open over the weekend might have done a double-take at the seventh hole.
Longtime title sponsor RBC tapped into some Canadian sports heritage, turning the hole into a faux hockey rink. That meant rink boards, a Zamboni, rink-side bleachers, marshals in referee uniforms, a penalty box and goal light that went off any time a player made a birdie at the hole.
Matt McGlynn, VP of brand marketing, RBC, said that the idea for the hole came from seeing other Open tour stops with "signature holes." He added that RBC wanted to create a branded spot on the course that was patriotic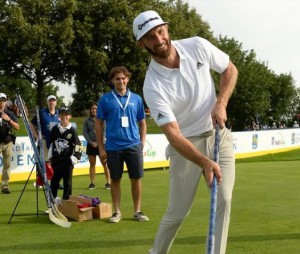 and also a place where people would congregate, while also tapping into the Canada 150 celebrations from the year.
On Friday, dubbed "red and white day" at the tournament, the hole was played to be exactly 150-yards. Each time a birdie was shown over the weekend, RBC donated $1,000 to the Ronald McDonald House. Visitors to the activation were also treated to Beaver Tails and poutine.
RBC worked with Golf Canada and Wasserman on the concept.
The bank has been a title sponsor of the tour since 2008. McGlynn said the partnership continues to make sense partly because the company has the ability to own the digital and broadcast space for the entire week around the tournament.
Last year, RBC activated with a fan experience that allowed them to go behind the scenes through VR content featuring golfers like Jim Furyk, Graham DeLaet and Brooke Henderson. That experience was back this year, in addition to the branded seventh hole experience.
McGlynn added that the Canadian Open is one of the more prominent golf sponsorships that RBC has throughout the year. The deal allows RBC to reach a mass audience, as well as people with higher household incomes.
Image: American professional golfer Dustin Johnson playing around on the seventh hole