Radioplayer app moves into the living room
Board chair Julie Adam on how the app has performed since launching and where it is expanding to next with its first update.
Radioplayer Canada, the streaming app that includes more than 400 stations from media companies such as CBC/Radio-Canada, Rogers Media, Corus Entertainment and Newcap Radio, has launched its first expansion since going live in the market this March. The app has expanded with new brand interfaces for the Sonos home sound system, Google Chromecast and Apple CarPlay.
Julie Adam, SVP, Rogers Radio and board chair of Radioplayer Canada, said that expanding onto these platforms is a new way to get back into people's homes in a way that radio once was. She said the threat of online players taking the radio out of the home has turned into an opportunity to get back into those familiar spaces with the growing availability of connected devices.
The latest online streaming numbers from Media Technology Monitor showed that though online users can choose to listen to any station using online radio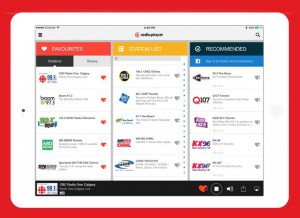 players, 62% choose to listen to local stations. That was followed by 26% who listened to content from another city and 16% that listened to content from other countries.
The most popular device for online audio listening according to that report was desktops (64%), which edged out smartphones (61%), tablets (32%) and internet connected TVs (22%).
Radioplayer Canada won't disclose user numbers, but Adam said that results to date have been above expectations. Last week, the app signed a deal with Acadia Broadcasting, which operates 14 stations in Atlantic Canada and Ontario.
Ads on the app are primarily limited to those that air during the radio station's live broadcast, said Adam. She added that more advertising options will be added once the audience on the app has been developed more.