Spotted! Aero gets experiential for S'Mores Day
The Nestle chocolate bar is aiming to connect one-on-one with consumers around moments of pleasure.
Not traditionally an experiential player, Aero changed up its promotions this week by creating an urban campground for National S'mores Day.
The Nestle chocolate brand has built the campground-themed activation at the corner of Yonge St. and Eglinton Ave. in Toronto. Throughout the day on Thursday and Friday, Aero representatives were be on site, preparing and handing out s'mores, as well as selling kits to make more of the treats at home. Each kit is $5, with $2 from each sale going to Kids Help Phone. Aero worked with Community on the event activation and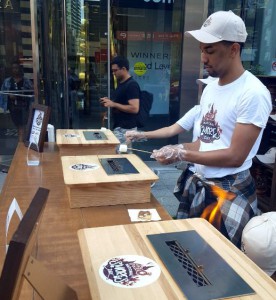 Narrative on public relations.
Christine McClean, marketing director of confectionery at Nestle, said the S'mores Day activation ties into Aero's new focus on the role it plays in the lives of consumers.
"Aero is a simple bar and a simple brand," she said. "For years we have been asking consumers to feel the bubbles melt. But after speaking with consumers… we found that Aero enhances little moments in their day. So for them, it's something that makes a good moment better."
(The experiential play loops into a larger campaign that carries this idea forward. The "Melt Into The Moment" campaign, led by Toronto's OneMethod, went live on July 24 and will run until early October. The promotion includes three digital videos, each showing people eating an Aero as they enjoy the present moment.)

For the s'mores activation, the location of Yonge St. and Eglinton Ave. in Toronto was also partially chosen because of how it fits into Aero's current campaign theme. McClean said the construction delays and detours that have overtaken much of the intersection this summer lend themselves well to talking to potential Aero buyers about finding moments of happiness.
"We almost like that there is so much going on in the area that we can capitalize on the moment," she said.
Aero is typically purchased most by women aged 35 and over, said McClean, but added that this week's pop-up campground is targeted more broadly at consumers of all ages.
McClean said this year's activation is just a warm up for next year when she hopes Aero will own the conversation around National S'mores Day.