Black aims for engagement with DOOH tool
Facial recognition and eye tracking tech at Billy Bishop Airport's passenger tunnel quantifies engagement on video versus static advertising.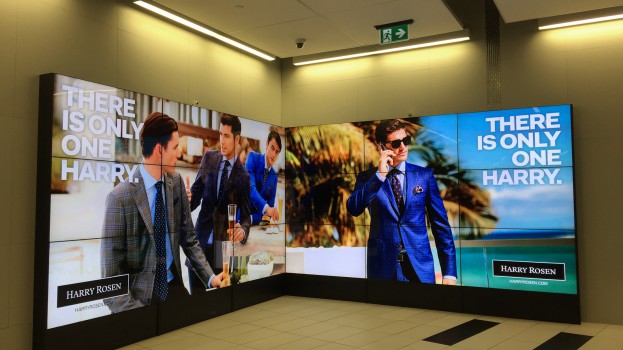 When Toronto-based media company Black installed a fleet of 40 digital OOH screens in the passenger tunnel of Billy Bishop Airport, CEO and founder Dean Black said he had a theory on how they could be used most effectively – clients using the placements to tell a story as passengers take the journey to and from the airport terminal.
On average there are 250,000 people going through the Billy Bishop Airport tunnel on a monthly basis, with daily traffic averaging between 8,000 and 14,0000.
But since the tunnel opened in mid-2015, there has been a wide variance in the effectiveness of the ads being placed on the DOOH faces. Black said there are still many advertisers that provide only standard OOH posters and just want it to be placed on the digital boards for 15-seconds as a static image.
In an effort to prove which ads are most effective in the tunnel, Black has introduced a Creative Report Card analytic tool for its advertisers. It uses facial recognition and eye-hover data from cameras mounted on the digital displays to provide data on how ads are performing. Black's report card scores show how each ad is doing against the target audience as well as how it compares with other creative running on the same board.
Results
Results from the 18-project study showed full-motion video increasing ad effectiveness by as much as 50%, said Black. The study also A/B tested static posters and then compared those results with full animation or full video ads, and found an increase in effectiveness of between 200% and 400%.
Black said that simply animating the way letters were revealed on a static ad also increased effectiveness by between 50% and 100% in tests.
Ads get scored in two ways, according to Black. First, a campaign performance score compares an ad's performance against other ads running on that board during the studied ad's campaign. The peer performance score, meanwhile, rates the ad's performance for an individual spot against all other ads that have run on its display for the 12 months preceding the campaign. Both are measured based on ad impact (how many people look at the ad) and engagement (for how long).
The report card also gives advertisers a percentage breakdown of male and female ad viewers in various age groups that have engaged with the ad. It also gives recommendations based on a given campaign's performance and how it did versus top-scoring ads.