We tweaks digital strategy with HuffPost Canada
The global change organization finds success swapping its traditional banner ads for a custom content program.
In addition to being the driving force behind the rise in avocado toast, millennials are often referred to in the media as being a generation that's focused on themselves. Eager to disprove that and tap into those millennials looking to support socially conscious brands, the We organization partnered with Oath in an effort to reach the demo and drive pledges with the group.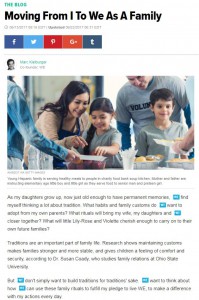 The We organization aims to bring people together around issues that can change the world for the better. It is comprised of We Charity, which empowers change with resources that create sustainable impact, and Me to We, a social enterprise that creates socially conscious products and experiences. The organization's media is handled by Starcom.
Until the partnership with Oath's HuffPost Canada this June, Steve Meraska, SVP of innovation and insights at Starcom, said the organization had focused its digital advertising on banner ads. But it wanted to change up the strategy in an effort to drive more pledges.
The partnership's content campaign was comprised of five posts written by We ambassadors such the organization's co-founders Marc and Craig Kielburger. They were placed on HuffPost Canada and promoted by the personalities.
But playing off the the idea that millennials are a selfish group, wherever the letter "I" appeared in the post, it was replaced by the We logo, encouraging readers to click through and take the We Pledge to make the world a better place in their daily lives.
Each of the posts was designed to have the maximum amount of "I" mentions so that the flashing We logo would be more visible.
Meraska said since the campaign went live, responses to the We Pledge have grown tenfold and pledge conversions have increased 28 times, compared with the averages across all previous digital advertising activity. All other digital ad spend was paused during the content campaign.
Starcom is in talks with the organization to run more content programs based on the success of this initiative.