Go Transit pulls in at the top: Media Monitors
Although the regional transit service bought the most time for radio ads in Toronto for the week of Aug. 7 to 13, the biggest category buyer was the trucks, cars and auto dealership categories.
The latest Media Monitors statistics revealed a new brand atop the charts. Go Transit made its debut on the list by buying the most radio ad time in Toronto for the week of Aug. 7 to 13.
The regional transit provider was followed by Rona, which fell from the top of the charts last week to #2. Meanwhile, Fido Internet climbed to #3, up from #4 the previous week. Closing out the top-five was Rogers Internet, which fell from #2 last week. Also new to the list were the Mazda Dealer Association at #6 and Mitsubishi Motors and Indigo Books & Music at #9 and #10 respectively.
Although Go Transit and Rona occupied the top of the list, most of the radio advertising space for the week went to the auto category, with cars, trucks and dealerships buying 1,957 spots for the week.
In Montreal, Rona held the top spot, followed by Bell Media's CraveTV, which jumped to #2 from #12. Dormez-Vous held the #3 spot, while Accent Insurance Solutions made a small climb to #4 from #7. Closing out the top-five was TSN, which sat at #83 last week. New to the list was Mitsubishi Motors, which entered at #8.
The auto category for domestic cars and trucks was the highest category, with 552 spots purchased.
Toronto:
By brand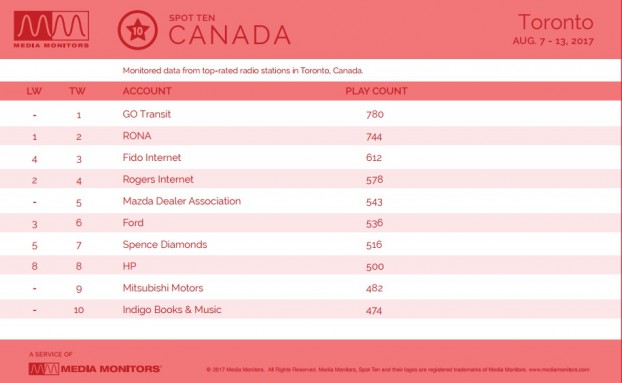 By category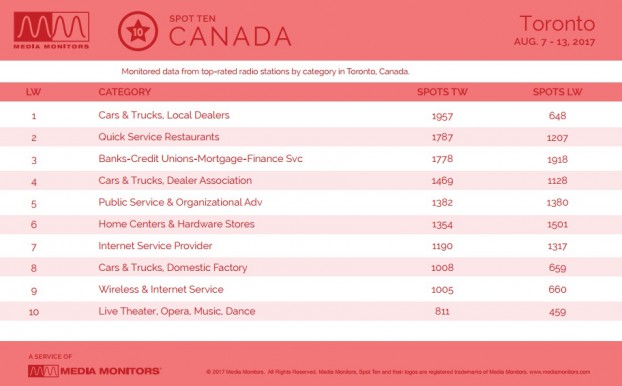 Montreal:
By brand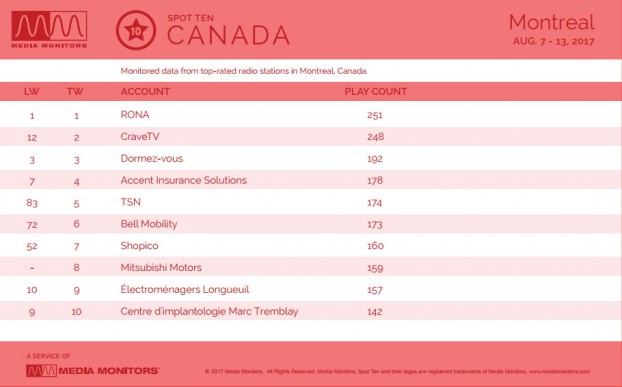 By category
Image by Eric Nopanen, courtesy of Unsplash