Shapovalov drives record tennis ratings for Sportsnet
The rising Richmond Hill tennis star was part of the most-watched tennis broadcast in Sportsnet history.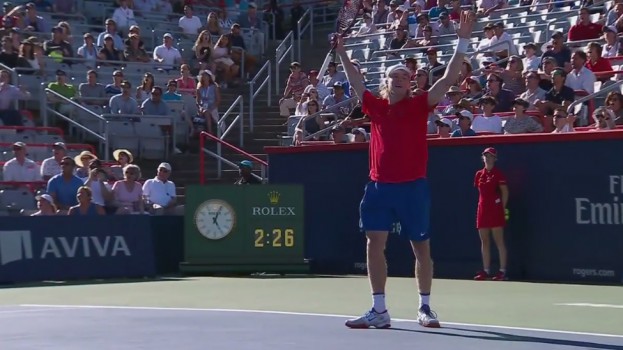 Two weeks ago, few outside the tight-knit world of tennis knew the name of Richmond Hill teen Denis Shapovalov. Now, the athlete has not only become a breakout star for Canadian tennis, but also the latest big draw for audiences on Sportsnet.
Shapovalov, who rose to quick fame at the Rogers Cup when he knocked out the second-ranked global player Rafael Nadal, went on to play in the most-watched tennis match in Sportsnet broadcast history.
The 18-year-old's semifinal match against Germany's Alexander Sverev (who went on to win the tournament) pulled in an average minute audience of 488,200 across Sportsnet and Sportsnet 360 on Aug. 12. The highest peak for the audience was at 9:53 p.m., at 741,600 unique watchers 2+, and the total reach of the match was 1.46 million viewers.
The previous record-holder for the most-watched match on Sportsnet was a 2013 Davis Cup semifinal match between Serbian player Novak Djokovic and Thornhill native Milos Raonic. That match pulled in an AMA of 349,100.
Shapovavlov is the youngest player ever to reach a Masters 1000 semifinal. Scott Moore, president of Sportsnet and NHL properties at Rogers media, said in a statement the fast rise of the local star has given sports fans something special to hold onto throughout the tournament.
The Rogers Cup has also hit a new record for in-person attendance in Montreal, with 216,097 fans on site throughout the week, which according to Tennis Canada is the highest global attendance for a one-week tournament for a single sport (the previous record was also set in Montreal in 2011 with 213,760 in attendance).
The quarter-final matches of Aug. 11 (which featured Shapovalov's winning match against Adrian Mannarino) were also part of the most-watched tennis broadcast on Sportsnet One, Sportsnet's category C digital cable and satellite channel. The match pulled in an AMA (2+) of 201,000. According to a Rogers Media spokesperson, the tournament reached a total of 4.4 million Canadians on Sportsnet.
Sponsors for the Rogers Cup (Rogers aside) include presenting sponsor National Bank and Danone, which promoted its Oikos brand throughout the stadium along with TV and social ads.