Amazing Race Canada pulls into the lead: Numeris
After weeks of battling it out for the top spot, the CTV reality show finally pulled ahead of America's Got Talent.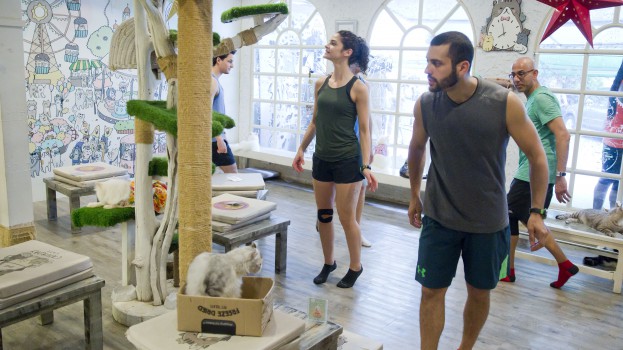 For the first time in weeks, The Amazing Race Canada bested City's America's Got Talent for the highest average minute audience (2+). That's according to the latest Numeris report, which covers the week of July 31 to Aug. 6.
The two reality competition shows have been duking it out all summer for the top slot, with America's Got Talent usually winning out. However, the Aug. 3 broadcast of Amazing Race Canada took in 1.83 million viewers on average, beating out America's Got Talent, which grabbed 1.78 million viewers.
Once again, reality dominated the country's top-five series, with World of Dance (1.3 million viewers), Big Brother (1.2 million) and MasterChef (1.17 million) rounding out the top programs.
Regionally, most markets also favoured unscripted programming. However, comedies and dramas still crept their way into the top fives in some markets, such as the second episode of the new sci-fi series Midnight, Texas on Global, which pulled in 75,000 viewers in Calgary (nationally, it brought in 848,000 viewers, making it #12 of all single-night programs and was the highest-ranked of all new scripted shows for the week).
In French Canada, Dimanche à Hollywood pulled into the top spot with 692,000 viewers, while TVA's Refuge Animal held onto the second spot with 647,000 viewers.
Here are the top-ranked daily measured shows by market (AMA for all persons 2+), according to Numeris, for July 31 to Aug. 6, 2017.
Canada
1. The Amazing Race Canada on CTV Thursday at 8 p.m.: 1.83 million viewers
2. America's Got Talent on City Tuesday at 8 p.m.: 1.78 million viewers
3. World of Dance on CTV Tuesday at 10:01 p.m.: 1.3 million viewers
4. Big Brother on Global Thursdayat 8 p.m.: 1.2 million viewers
5. MasterChef on CTV Wednesday at 8 p.m.: 1.17 million viewers
Montreal (anglophone)
1. America's Got Talent on City Tuesday at 8 p.m.: 69,000 viewers
2. World of Dance on CTV Tuesday at 10:01 p.m.: 58,000 viewers
3. Saving Hope on CTV Thursday at 9 p.m.: 51,000 viewers
4. The Amazing Race Canada on CTV Thursday at 9 p.m.: 50,000 viewers
5. 19-2 on CTV Monday at 10 p.m.: 49,000 viewers
Quebec (francophone)
1. Dimanche à Hollywood on TVA Sunday at 8 p.m.: 692,000 viewers
2. Refuge Animal on TVA Monday at 7 p.m.: 647,000 viewers
3. Viens-tu faire un tour? on SRC Sunday at 8 p.m.: 621,000 viewers
4. Les beaux malaises on TVA Monday at 8 p.m.: 608,000 viewers
5. Ciné-extra on TVA Saturday at 6:30 p.m.: 604,000 viewers
Toronto/Hamilton
1. America's Got Talent on City Tuesday at 8 p.m.: 404,000 viewers
2. The Amazing Race Canada on CTV Tuesday at 8 p.m.: 317,000 viewers
3. Big Brother on Global Sunday at 8 p.m.: 301,000 viewers
4. MasterChef on CTV Wednesday at 8 p.m.: 278,000 viewers
5. Big Brother on Global Wednesday at 8 p.m.: 269,000 viewers
Edmonton
1. The Amazing Race Canada on CTV Tuesday at 9 p.m.: 129,000 viewers
2. American Ninja Warrior on CTV Monday at 9 p.m.: 115,000 viewers
3. World of Dance on CTV Tuesday at 8 p.m.: 80,000 viewers
4. Midnight, Texas on Global Monday at 8 p.m.: 75,000 viewers
5. America's Got Talent on City Tuesday at 9 p.m.: 63,000 viewers
Calgary
1. American Ninja Warrior on CTV Monday at 9 p.m.: 66,000 viewers (tie)
1. The Amazing Race Canada on CTV Tuesday at 9 p.m.: 66,000 viewers (tie)
1. Saving Hope on CTV Thursday at 10 p.m.: 66,000 viewers (tie)
4. America's Got Talent on City Tuesday at 9 p.m.: 62,000 viewers (tie)
4. Big Brother on Global Sunday at 9 p.m.: 62,000 viewers (tie)

Vancouver/Victoria
1. America's Got Talent on City Tuesday at 8 p.m.: 156,000 viewers
2. The Amazing Race Canada on CTV Tuesday at 8 p.m.: 134,000 viewers
3. American Ninja Warrior on CTV Monday at 8 p.m.: 126,000 viewers
4. MasterChef on CTV Wednesday at 8 p.m.: 106,000 viewers
5. World of Dance on CTV Tuesday at 10 p.m.: 102,000 viewers