Marblemedia to relaunch Just Like Mom
The remake of the popular 1980s game show is set to debut in Canada and the U.S. in January 2018.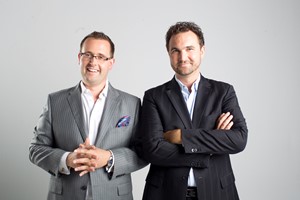 Toronto-based marblemedia is set to relaunch Bell Media's 1980s game show Just Like Mom. 
Produced in association with YES TV in Canada and BYUtv in the U.S., Just Like Mom and Dad will feature three parent/kid pairs competing in two interactive trivia rounds and a final bake-off round, and the winning team getting a chance to spin a wheel to win a grand prize. Filming will take place in front of a live studio audience.
The 20-episode primetime game show will premiere across North America in January 2018, with production set to begin this fall. Casting for the series launched today.
The original series ran for five seasons and more than 600 episodes between 1980 and 1985 on CTV.
Producers on the new show are marblemedia's Mark Bishop and Matt Hornburg (pictured left and right, respectively), Steve Sloan, Stephen Turnbull, as well as Rob Sheppard for YES TV, Jim Bell for BYUtv and Adam Ivers for Omnicom's Highway Entertainment.
To accompany the series, marblemedia will also release digital media components produced in-house, including a mobile app.
Marblemedia originally picked up the remake and development rights to series in 2009. The deal includes worldwide program and format distribution rights, which will be handled by marblemedia's distribution arm Distribution360, as well as digital and ancillary rights. Toronto-based Segal Licensing will handle L&M for the series.
Earlier this year, Bell Media announced its first original format deal. In April, the company announced it had created a new, multi-platform music series format, The Launch, for CTV and distribution around the world.