Lucky Charms goes digital to target millennials
The General Mills cereal is encouraging the demo to not act their age with a new campaign that urges them to be a kid again.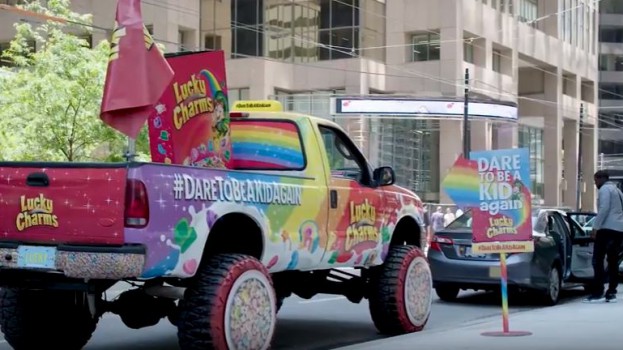 Millennials grew up with Lucky Charms, and General Mills wants to tap into that familiarity with its largest digital campaign targeting the demo.
The campaign is based around the idea of urging people to release their inner kid with #DareToBeAKidAgain, a series of digital videos that went live on Monday across Instagram, Facebook, SnapChat and YouTube.
Lucky Charms took millennial-friendly influencers such as YouTube personality Karl Conrad, radio personalities Roz and Mocha, travel and music blogger Andrew Gunadie and sports TV host Jackie Redmond, and urged them to let their inner kid out. The influencers, along with passersby, were treated to things like taking a ride in a Lucky Charms monster truck, a branded big wheel bike, or a 3D chalk version of don't-step-on-the-crack.
Traditionally, Lucky Charms has spent the bulk of its ad dollars on TV in Canada, but has been focusing on a wider variety of digital assets in recent years as it zeroed-in on the millennial demo. Recent examples include a Lucky Charms SnapChat filter for St. Patrick's Day and content created with Vice Canada and chef Matty Matheson to bake a Lucky Charms Mega Cake.
The new Lucky Charms videos will be used as ads across the social media networks, with additional content being created and shared by the creators for their own feeds and sites.
Mike Siemienas, brand media relations manager, General Mills, said the aim of the campaign is to reach millennials and get them thinking about fun and connecting that with the Lucky Charms they grew up with. The demo is more likely than other age groups to eat the cereal throughout the day rather than just at breakfast, he said, and they also consume it as a snack, dinner or dessert.
Though this is the largest millennial-focused campaign to date for Lucky Charms in Canada, similar approaches with the group have yielded sales growth in previous years. General Mills has also targeted the demo online in recent years to relaunch Trix, Frankenberry and Count Chocula.
The first wave of the campaign will wrap up at the end of October with another wave running from January to March. Media for the promotion was done by Cossette, Diamond worked on the activations and Veritas handled the PR and influencer component.