Pattison Onestop expands office network
The OOH company has signed seven new deals in Alberta.
Digital OOH company Pattison Onestop has announced the addition of seven new buildings to its digital office network in Alberta.
The new locations are located in Calgary and Edmonton and bring Onestop's Alberta inventory up to 65 buildings – 45 in Calgary and 20 in Edmonton. The new deals add a total of 43 signs to the Pattison Onestop digital office network.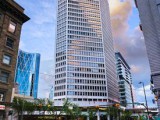 New properties include The Edison, a 30-story building in downtown Calgary, as well as Centrium Place, Keynote Tower, Canada Place and Plaza 1000, which are all operated by Triovest Realty Advisors Inc.
New Edmonton deals include the Bell Tower and the MNP Tower, which are both operated by Aspen Properties.
The digital office network also operates screens in buildings in Vancouver, Winnipeg, Toronto, Ottawa, Montreal and Halifax. In all, the network generates over 2.5 million weekly impressions.