TheScore's app update focuses on discoverability
The mobile-first sports media company has divided its main interface to provide deeper coverage and will soon test new ad units to go with it.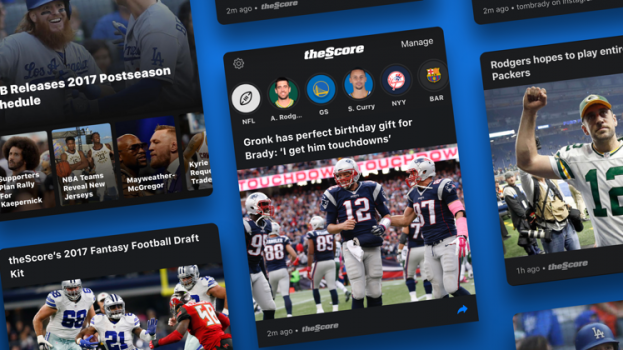 Mobile-first sports media company theScore has made what it says is the largest update to its mobile app.
The new user interface (which is available for download on the App Store for Apple users and will launch soon on Google Play) adds new tabs, including a "discover" tab and a "favourites" feed. The update was timed with the start of the new NFL season, which kicks off on Sept. 7.
The "discover" section shows fans articles, videos and scores from around the sports world outside of the leagues and teams that they follow, whereas "favourites" focuses on aggregated content from franchises they're already following. The idea, said COO Benjie Levy, is to create an app that splits the balance between a personalized feed and a highly discoverable news feed featuring trending stories and topics.
Levy told MiC the updates were based largely on how people were already using the app. "[We] worked on preserving those features while also layering in new elements." Levy said with the feeds divided, it will become easier to get deeper coverage of individual teams.
He said theScore is currently testing several different ad units with the updated interface internally, but is not yet ready to share details. He said with the redesign in early stages, the team will develop new features and units based on how people use it.
TheScore had 4.1 million monthly active users as of Q3 2017, a slight year-over-year decrease (4.3 million in Q3 2016). However, open rates and sessions were up, at 92 sessions per user per month (up year-over-year from 83). Levy said the team is hoping to capitalize on the current engagement upswing.
TheScore's revenues are largely driven by display advertising and sponsorships, such as recent deals like an  e-sports partnership with Sugar Crisp and a March Madness promotion with Canadian Club.