Fall premiere dates announced for City
The new season will kick off Sept. 10 with the launch of space comedy The Orville.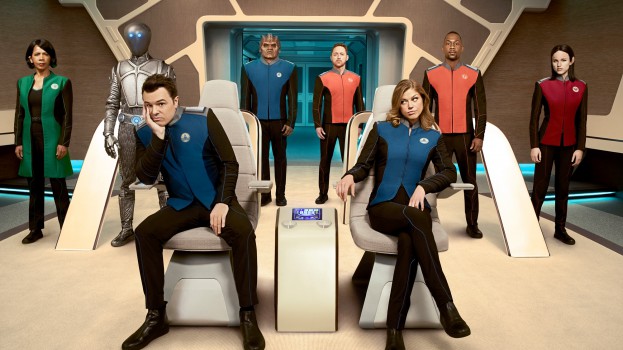 Rogers Media's City TV is the latest Canadian conventional network to roll out its fall TV premiere dates. The network's fall schedule, which will see it lean back into its familiar comedic territory will officially kick off Sunday, Sept. 10 with the premiere of space dramedy The Orville, from Seth MacFarlane. The Orville, which is directed by Jon Favreau (Iron Man), follows the funny and everyday challenges of the S.S. Orville's human and alien crew.
After two weeks, The Orville will move into the 9 p.m. timeslot on Thursdays (beginning Sept. 21) before it moves into the 8 p.m. slot as of Nov. 2.
New to City (but not to Canadian audiences) is the ABC pickup Dancing With the Stars, which will drop Sept. 18 in the 8 p.m. timeslot on Mondays.
The next new series, the Canadian original true crime series Bad Blood, will premiere on Sept. 21 at 8 p.m. However, the hour-long premiere episode will first be showcased to fans Sept. 1 at the Toronto comic, sci-fi and pop culture event FanExpo Canada, followed by a live Q&A with series stars and creators. Bad Blood is based on a true story and follows the events leading to the arrest of Canadian mafia leader Vito Rizzuto.
Another new-to-City pickup is the crime thriller The Blacklist, starring James Spader, which will premiere on the network Sept. 27 and take over the Wednesday 8 p.m. timeslot. Family comedy Speechless, which follows the adventures of a family whose eldest son is non-verbal, will premiere the following night in the Thursday 9:30 p.m. timeslot.
New laugher Ghosted, starring TV comedy vets Craig Robinson (The Office) and Adam Scott (Parks and Recreation), will premiere Sunday, Oct. 1 at 8:30 p.m. The series follows two friends and paranormal enthusiasts as they embark on a mission to save Earth from aliens.
City will also play host to a live musical production of A Christmas Story on Sunday Dec. 17. The production stars Saturday Night Live alumni Maya Rudolph as Ralphie's mother, and is executive produced by Marc Platt (La La Land).
September will see the return of series Scorpion on Sept. 25 (Mondays, 10 p.m.); Lethal Weapon, The Mick and Brooklyn Nine-Nine will premiere Sept. 26 (Tuesdays at 8 p.m., 9 p.m. and 9:30 p.m., respectively); Modern Family on Sept. 27 (Wednesdays at 9 p.m.); and Hell's Kitchen on Sept. 29 (Fridays at 9 p.m.)
In October, Bob's Burgers, Family Guy and The Last Man on Earth will premiere on Oct. 1 (Sundays at 7:30 p.m., 9 p.m. and 9:30 p.m.); Black-ish on Oct. 7 (Wednesdays at 9:30 p.m.); and The Middle on Oct. 6 (Friday, 9 p.m.).
November will feature the return of Mom and Life in Pieces on Nov. 2 (Thursdays, 9 p.m. and 9:30 p.m.); and Nirvanna the Band the Show and Fubar: Age of the Computer on Nov. 5 (Sundays at 10 p.m. and 10:30 p.m.).
Hockey Night in Canada will continue in its Saturday 7 p.m. time slot beginning Oct. 7.

Premiere dates for other events, including Rent and the 60th Annual Grammy Awards will be announced at a later date.