TimePlay poised to expand following funding boost
The company, which largely works with Cineplex, is set to expand into new verticals.
TimePlay's expansions plans have received a boost after the Toronto-based ad-supported multiplayer interactive experience company closed the first part of its series A financing, raising $8 million.
According to a representative, TimePlay will be using a portion of the funds to expand its business beyond cinemas and into new verticals like stadiums and arenas. It will also be using the funding to expand its cinema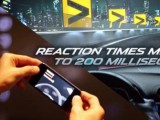 business into the U.S. and worldwide.
TimePlay currently works with Cineplex in Canada, providing pre-cinema interactive games before movies start.
Earlier this spring, TimePlay began shopping the concept of taking its app experience from the cinema to the streets to agencies and potential ad partners. Company SVP Aaron Silverberg, said that the idea behind the expansion was to reduce the gaps between user movie visits, which occur about six to eight times a year, according to TimePlay's research.
To date, 4.7 million people (primarily Canadians) have downloaded TimePlay. Silverberg has told MiC that in-cinema usage varies depending on factors including the day and movie, but said on average, 20% of people in a theatre with TimePlay are on the app during the pre-show games.