Golf Town gets experiential to target next gen
Company VP of marketing and e-commerce, Frederick Lecoq, on how the company engaged younger golf fans around its first sponsored athlete.
As part of its sponsorship of the LPGA CP Women's Cup golf tournament, Golf Town wanted to engage the next generation of golfers, and bypassed traditional channels to do it.
The brand tapped Canadian golfer Brooke Henderson, with whom it had signed its first-ever pro Canadian golf sponsorship deal in January. Golf Town then created a group of young fans – the #BrookeBrigade – aimed at driving attention and passion for the sport.
Golf Town started by hosting meet and greet events for kids around the Ottawa area. Henderson appeared at each one, signing things for kids, gifting visitors with her signature visors and giving out Brooke's Brigade t-shirts.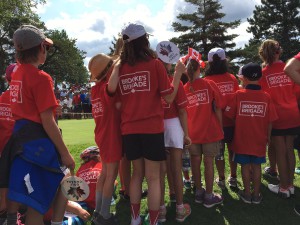 Each kid in attendance was also given a free pass for the CP Women's Open to watch the action from one of three kid-friendly viewing zones dedicated to cheering for the hometown star.
Lecoq said the activation was all part of the retailer's plans to get the next generation into the game.
"Everyone is looking at how to make the game more fun and friendly and less about me versus my handicap," Lecoq said. "Kids in Canada get into hockey, baseball, soccer. I don't think golf is in the consideration set yet for the first sport. Maybe it won't be the first sport, but we want it to be a family friendly activity. Want it to be more accessible and fun."
The activation was also cost-effective, which was key for the retailer. It cost less than $50,000 to execute and saw about 1,000 t-shirts given away and 1,500 kids invited to the tournament. (Golf Town's 2017 media spend will be about $7 million, he said. Advertising will be split with about 30% going to traditional advertising and 70% to digital spots.)
"Golf is usually male driven," he said, "And if we want to grow the game, then we need to get more kids into the game. Brooke is the perfect person for that. She is an inspiration for kids and so kid-friendly.
The BrookeBrigade activation done by Golf Town's in-house marketing team.