Amazing Race Canada holds the lead: Numeris
The Canadian original once again beat out America's Got Talent, but both reality shows saw their average audience drop.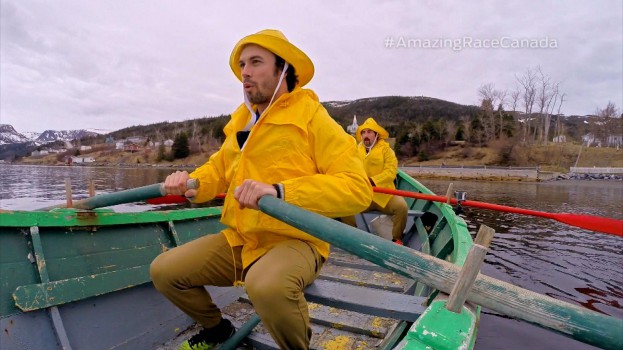 The Amazing Race Canada once again brought in the highest average minute audience (2+) of all single-night programs for the week. According to the latest Numeris report, which covers the week of Aug. 14 to 20, the Canadian reality show bested City's America's Got Talent, which is now airing two episodes per week as the show's quarterfinals begin.

Although the top spot this summer has alternated consistently between the two reality series, this week saw a slight drop in their audiences this week — Race brought in 1.61 million viewers (from last week's 1.9 million), while America's Got Talent took in 1.59 million viewers for its Tuesday episode and 1.41 million viewers on its Wednesday episode (down from 1.88 million viewers last Tuesday).
Once again rounding out the top-five were unscripted competition shows, with the Sunday night episode of Big Brother grabbing 1.34 million viewers, and American Ninja Warrior pulling in 1.31 million viewers.
While most Anglophone markets favoured either America's Got Talent or Amazing Race Canada for the lead, Edmonton and Calgary showed a preference toward the extreme obstacle courses of American Ninja Warrior. The CTV series also grew its share in both markets, pulling in 108,000 Edmonton viewers (up from 90.000) and 75,000 Calgarians (up from 53,000). Calgary was also the only market where neither episode of America's Got Talent cracked the top-five.
In the Francophone Quebec market, SRC's Les chefs held the top spot for the second week in a row, making a big ratings jump from to 752,000 from 703,000 the previous week.
Here are the top-ranked daily measured shows by market (AMA for all persons 2+), according to Numeris, for Aug. 14 to 20, 2017.
Canada
1. The Amazing Race Canada on CTV Tuesday at 8 p.m.: 1.61 million viewers
2. America's Got Talent on City Tuesday at 8 p.m.: 1.59 million viewers
3. America's Got Talent on City Wednesday at 8 p.m.: 1.41 million viewers
4. Big Brother on Global Wednesday at 8 p.m.: 1.34 million viewers
5. American Ninja Warrior on CTV Monday at 8 p.m.: 1.31 million viewers

Montreal (anglophone)
1. America's Got Talent on City Tuesday at 8 p.m.: 65,000 viewers
2. The Amazing Race Canada on CTV Tuesday at 8 p.m.: 57,000 viewers
3. America's Got Talent on City Wednesday at 8 p.m.: 55,000 viewers
4. Hollywood Game Night on CTV Tuesday at 10 p.m.: 52,000 viewers (tie)
4. American Ninja Warrior on CTV Monday at 8 p.m.: 52,000 viewers (tie)
Quebec (francophone)
1. Les chefs on SRC Monday at 8 p.m.: 752,000 viewers
2. L'événement JMP 2015 on TVA Monday at 9 p.m.: 675,000 viewers
3. Ma maison bien-aimée on TVA Tuesday at 8 p.m.: 622,000 viewers
4. Dimanche à Hollywood on TVA Sunday at 8 p.m.: 614,000 viewers
5. Ciné-extra on TVA Saturday at 6:30 p.m.: 589,000 viewers
Toronto/Hamilton
1. America's Got Talent on City Tuesday at 8 p.m.: 368,000 viewers
2. America's Got Talent on City Wednesday at 8 p.m.: 357,000 viewers
3. Big Brother on Global Sunday at 8 p.m.: 332,000 viewers
4. The Amazing Race Canada on CTV Tuesday at 8 p.m.: 287,000 viewers
5. Big Brother on Global Wednesday at 8 p.m.: 255,000 viewers
Edmonton
1. American Ninja Warrior on CTV Monday at 9 p.m.: 108,000 viewers
2. The Amazing Race Canada on CTV Tuesday at 9 p.m.: 95,000 viewers
3. America's Got Talent on City Tuesday at 9 p.m.: 75,000 viewers
4. Masterchef on CTV Wednesday at 9 p.m.: 72,000 viewers
5. Midnight, Texas on Global Friday at 9 p.m.: 68,000 viewers
Calgary
1. American Ninja Warrior on CTV Monday at 9 p.m.: 75,000 viewers
2. Masterchef on CTV Wednesday at 9 p.m.: 75,000 viewers
3. The Amazing Race Canada on Tuesday at 9 p.m.: 60,000 viewers
4. The Big Bang Theory on CTV Thursday at 9:31 p.m.: 58,000 viewers
5. Big Brother on Global Sunday at 9 p.m.: 56,000 viewers
Vancouver/Victoria
1. America's Got Talent on City Tuesday at 8 p.m.: 195,000 viewers
2. America's Got Talent on City Wednesday at 8 p.m.: 155,000 viewers
3. The Amazing Race Canada on CTV Tuesday at 8 p.m.: 117,000 viewers
4. Border Security on Global Sunday at 7 p.m.: 93,000 viewers
5. Border Security on Global Saturday at 7 p.m.: 91,000 viewers