Spotted! Warner Bros. Canada creeps out commuters
Poor Georgie floats for It's new a street level promotion in Toronto.
The word of the morning for commuters around downtown Toronto Wednesday morning was "creepy."
It was music to the ears of Rooftop Agency. It wanted to creep out commuters for its client Warner Bros. Pictures Canada to promote the upcoming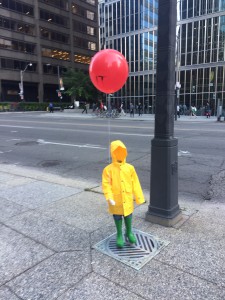 horror movie It.
The agency created 40 child-sized dolls made to look like Georgie, a tragic young character from the movie. They were positioned on a translucent post above a custom-made sewer grate so it looked like they were floating above them.
The ghost-like dolls were then placed on street corners along downtown Toronto's busiest pedestrian corridors around its financial district Wednesday morning.
"I have been doing this for 20 years and this is, I think, the most receptive people have been to an activation," said David Videka, Rooftop's president. "The difference with this campaign versus previous ones I have worked on is the sheer mass of the project. We wanted to dominate downtown Toronto and actively get people talking about the movie. The emotional connection that people shared with the reps was amazing."
Passersby were encouraged to take a picture of the figures and post them online with #WheresGeorgieTO for the chance to win private screenings of It and prize packs from the film.
A video showing the making of the dolls, as well as commuter reaction to them, will go live next week ahead of the movie's Sept. 8 release date. The OOH stunt is paired with a TV, radio and in-theatre campaign promoting the film.
Those who missed seeing the dolls downtown may still catch them at Toronto area theatres during the movie's launch and at this weekend's Fan Expo Canada.