Summer TV check-in: What's got buyers talking?
Buyers discuss what worked, what didn't, and whether broadcasters can get by on reality-heavy summer slates.
Summer is a time for outdoor parties, vacations and maybe even tackling your reading list. For TV, this often means a slight dip in viewership compared to the rest of the year.
In an effort to see if this summer's line-up was strong enough to beat the heat, MiC checked in with several buyers to get their thoughts. Those that spoke with us all felt that this summer's viewership is a little less enthusiastic than usual.
Lindsey Talbot, managing director of trading and activation at Maxus Canada, said that so far, viewership is down compared to last summer and predicted that trend will continue as the last of the August audience numbers roll out.  She pointed out that big-ticket TV events such as the 2016 Rio Olympics and CBC's record-breaking Tragically Hip concert did boost last summer's total viewership, making this year's naturally lower in comparison.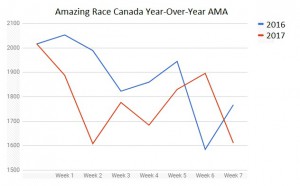 However, individual shows have suffered moderate losses year-over-year, meaning the lack of a major sporting event isn't the only thing challenging viewership.
Numeris numbers show that, for the most part, average audiences for the top-ranked shows are down from the same period last year. From May 29 to Aug. 20, the AMAs of the top-five single-night programs each week were down an average of 13% — now at an average of 1.4 million (from 1.62 million for same period in 2016).
Scrutinizing the best in class
For example, The Amazing Race Canada, which was at or near the top of the Numeris tallies all summer, has shown a slight decrease in ratings from last year. Of its first six episodes, only one has garnered a higher average audience than 2016. Overall, Race's current average sits at 1.76 million, compared to 1.88 million last year.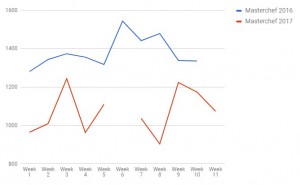 Talbot also pointed to a similar drop for CTV's Masterchef, which so far has an average audience of 1.07 million – a 22.5% drop versus the same point last year (1.38 million). Big Brother has seen a slight drop as well, with an average audience of 1.12 million this year versus 1.22 million last year. (CTV did not respond to requests for comment.)
One exception to the trend has been City's America's Got Talent, which has performed slightly higher over the course of the summer than last year. It has reigned as the top single-night program on the air for most weeks and currently boasts an average audience of 1.78 million for all episodes so far (up from 1.76 million at the same point last year).
A script for success?
The top-five TV shows for average audiences this summer (so far) all fall into the unscripted competition format — fairly typical for most summers.
Top shows for summer 2017 for AMA (2+) from May 29 to Aug. 20

1.  America's Got Talent (1.78 million viewers)
2. The Amazing Race Canada (1.76 million viewers)
3. World of Dance (1.34 million viewers)
4. American Ninja Warrior (1.16 million viewers)
5. Big Brother (1.12 million viewers).
Masterchef just narrowly missed the top-five at 1.07 million average viewers. Last year's numbers would have ranked it third.
Talbot said going heavy on unscripted programming is a smart strategy for networks because they're generally cheaper to produce and acquire.
But Jennifer Bidwell, managing director of television systems at Media Experts, had a more mixed view. She agreed that some reality shows are indeed smart choices, like CTV's new pick-up World of Dance. She said its "familiar format" worked (similar series So You Think You Can Dance ran on CTV for 10 years and continues to run on Fox on Mondays). But she and fellow Media Experts buyer Carol Cummings (its director of television) said networks need to offer more variety.
"For those who are not reality or game show aficionados, there was a dearth of first-run dramas, leaving reruns as the only alternative on conventional television," said Cummings, which could be pushing viewers to OTT options.
(On the rerun front, ratings juggernaut The Big Bang Theory tended to perform the best from week-to-week, even out-ranking most new series. However, Talbot said Media Experts' research shows reruns for the comedy are down 25% from last summer).
City premiered a number of new game shows, many revamping classic formats such as The Gong Show, Love Connection and Beat Shazam (inspired by Name That Tune). Cummings said those pickups have not been major ratings winners, and with all of them appearing on Thursday nights, none have been able to stand up to Big Bang or Saving Hope.
Hayden Mindell, VP of television programming and content for Rogers Media, said that the game shows may not have beaten Big Bang, but that Rogers was still happy with the results. "Our strategy was never to compete against mainstream sitcoms — our strategy has always been to stay true to the City brand." That brand, he said, is one of lightheartedness and fun, which it has also emphasized with its comedy-heavy fall TV slate.
The average audiences for those programs up to Aug. 13 are 475,000 for The Gong Show, 410,000 for Beat Shazam and 276,000 for Love Connection. Mindell added that audiences for the Thursday night 8 p.m. to 11 p.m. block are up 93% over last summer (when the block saw a rotation of programming including Between, Rush Hour and Mom).
Turning a corner?
Despite the drops across numerous verticals, Talbot said some good still came from the summer. "The three major broadcasters each had at least one of their shows in the top-five ranked programs," she said, referring to CTV's Amazing Race and World of Dance, City's America's Got Talent and Global's Big Brother. "We don't always see [that] in fall or spring." So while the broadcasting strategies were safe, she said they were smart.
Bidwell did add that the last few weeks of the summer still have some potential to pull in more audiences, particularly with the late summer premiere of Saturday Night Live's standalone spin-off Weekend Update (the first episode, which aired Aug. 10, pulled in an AMA of 630,000), and the premiere of The Sinner on Showcase (a representative for Corus could not provide the AMA for the Aug. 21 premiere at press time).
"I think there's something to be said here," Bidwell said. "There's an effort by broadcasters to capture some fresh audiences and an opportunity to heavily promote fall programming."
A representative from Global said that as summer progressed, ratings have indeed increased, with primetime audiences jumping 40% in the 25 to 54 group between May 29 and Aug. 13.
Pictured: Finalist Eva Igo on CTV's new summer hit World of Dance, courtesy of Bell Media