Spotted! The BC Dairy Association launches an escape room
The association is inviting Vancouverites to escape adulthood with its new activation.
Paying bills, doing laundry and getting groceries are things that always need doing as an adult. But fun? It's rarely high on the list of priorities.
The BC Dairy Association is aiming to make chores into a game in its new Vancouver-based activation, "The Getaway Escape Room."
Created with OMD Vancouver, DDB Canada Vancouver and GMR Marketing, the activation invites teams of up to eight people to attempt to get out of its space through a series of puzzles that deal with chores, technology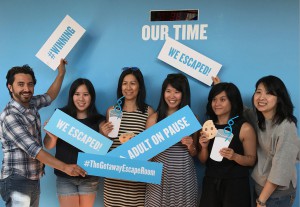 glitches and commuting. Teams that escape in the 45-minute window are invited to enjoy a celebratory glass of milk with cookies. The room will be open until Sept. 12 and would-be escapers can sign up online.
Promotions for "The Getaway Escape Room" are running on Daily Hive Vancouver, 102.7 The Peak and on social media.
"The objective is to remind adults it's okay to have a little fun once in while," said Kristine Louie, marketing communications specialist, BC Dairy Association.
The escape room is an extension of BC Dairy's 2016 campaign "Put your Adult on Pause" that aimed to return adults to the idea of drinking a glass of milk as being impulsive enjoyment. Spots in the campaign were shot to look like security, police dashboard camera or jumbotron footage of adults embracing their inner child.
Louie said her target audience is primarily young parents, with an emphasis on females aged 30 to 49. The goal is to give them "little moments of happiness and pleasure," she said.
"We know that milk is good for you, but we didn't feel that was what our audience wanted to hear," she said. "We aimed to change the boring perception of milk and bring out the pleasurable and happy moments that milk can provide. The sentiment of a 'youthful joy' is how our campaign is positioned."