Nespresso goes live from the TIFF red carpet
The beverage company has expanded its involvement with the festival to include Facebook Live streams from marquee films in partnership with ET Canada.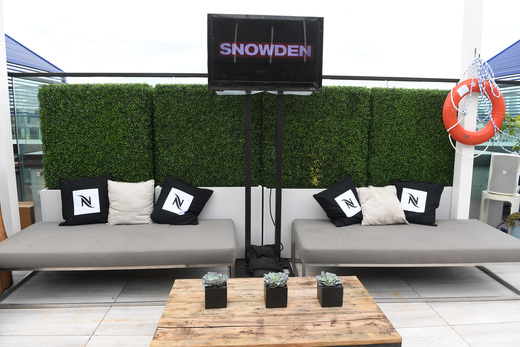 Nespresso is bringing live branded video to the TIFF red carpet.
The beverage company is again partnering with ET Canada. Last year, the Corus-owned show added a second daily Facebook Live show to its roster of TIFF programming. For 2017, its tweaking the deal to include Facebook Live broadcasts as celebrities arrive at the film premieres.
Sangita Patel will host the segments, called The Nespresso Red Carpet Corespondent, at selected screenings from Sept. 7 to 11. The segment will be integrated into red carpets featuring big celebrities, including  Nespresso's spokesperson George Clooney on Sept. 9 at 6:30 p.m.
Patel will ask questions from ET Canada's fans as well as branded ones, like "'what's your morning routine before red carpet events?" The Facebook Live segments will be broadcast on ET Canada's Facebook page and Nespresso Canada's simultaneously. Facebook ads will run the day of the segments to drive viewership, according to a brand spokesperson. The Facebook Live segments will be branded with a Nespresso logo.
Benjamin Combe, media specialist at Nespresso Canada, said the goal of the activation is to get exclusive content to its social media fans.
In addition to the Facebook Live broadcasts, Nespresso is again the title sponsor of ET Canada's Nespresso Festival Central Lounge. ET Canada will also shoot daily wrap up reports on the TIFF events of the day from Nespresso's Yorkville store. Those segments will include on-air brand mentions and a branded opening title.
Nespresso's TIFF sponsorship activations also include movie premiere and party sponsorships, as well as targeted media events throughout the festival. All work on the sponsorship was done with MEC on media and The Mint Agency on public relations.
Sylvie Charette, VP of marketing and e-commerce, Nespresso Canada, said the brand's TIFF sponsorship aligns well with its target audience of adults 25 to 44. She said market research has shown its target audience is primarily urban and loves the arts. The brand team wouldn't comment on results tied to its TIFF sponsorships, which have been running since 2013, aside from saying that it contributes positively to brand awareness and perception.
In addition to sponsoring TIFF, Nespresso is also a major partner of other film festivals, such as the Cannes International Film Festival.
Image: The 2016 Nespresso Festival Central Lounge