Why D'Italiano brought the tenors back
The bread brand is diving into experiential after a year of experimenting with its media spend.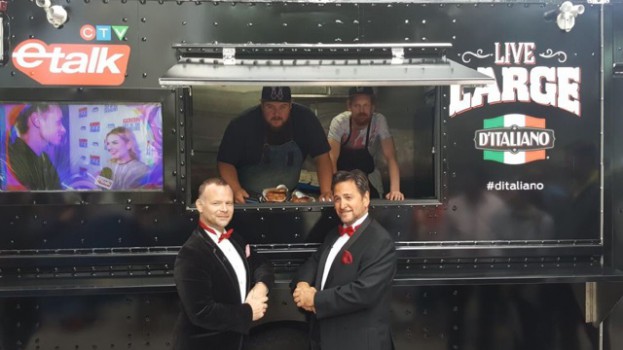 Bread brand D'Italiano is embarking on one of its first experiential brand activations, and it's timing the activation with Canada's largest film festival. It's activating through a food truck that it's co-branded with eTalk, serving a variety of "festival-inspired" sandwiches created by chef Rodney Bowers outside the Ritz Carlton Hotel.

The food truck made its debut Sept. 8 and will continue serving Sept. 11 and 12.
The activation is part of a larger sponsorship with eTalk during festival season, which will also include on-air integration and social media posts amplified across both D'Italiano and eTalk's platforms, plus digital programmatic advertising.
Making several appearances at the food truck are a group of familiar faces (and voices) — the two Italian tenors who were the focal point of D'Italiano's last digital campaign. The tenors will sing for the festivalgoers ordering sandwiches, making songs out of their orders.
Nicole Pekerman, marketing director of parent company Weston Bakeries, said media efforts in the last year, including the festival activation, have represented a major shift for how the D'Italiano brand markets itself.
"Historically, we would usually do promotions on TV or print," she said. However, when D'Italiano first undertook its "Live Large" campaign in late 2016 (its first campaign in more than three years), it started taking a different approach, increasing its digital and social spend by about 50%.
The tenors spot was especially unconventional, she said, but ended up becoming a successful experiment. In the 24 hours that D'Italiano streamed live from the YouTube masthead, Pekerman said it delivered 34 million impressions, and 5.4 million unique viewers watched a total of 25,000 hours of content. Engagement rates were well above targets (the company only expected 24 million total impressions), and, Pekerman said, there was also an uptake in sales in the days and weeks following the takeover.
As a result, the tenors are back. On top of their presence at the food truck, Pekerman said they will also appear on eTalk during the on-air promotions.
The festival activation and eTalk integration, which were both handled by Dentsu, were a fit for D'Italiano because of its current "Live Large" message, according to Pekerman. "Everything is very sped up downtown [during the festival]," she said. "We can really work in the message of living large and feeling like a VIP."
At the same time, she said, D'Italiano does not normally spend on experiential promotions, but it has been making an attempt to diversify its marketing efforts.
The projected number of interactions, based on the festival's foot traffic, is 480,000, according to Pekerman.