Amazing Race Canada wins the week: Numeris
The reality show gained over its audience last week, pulling in an average minute audience of 1.7 million viewers.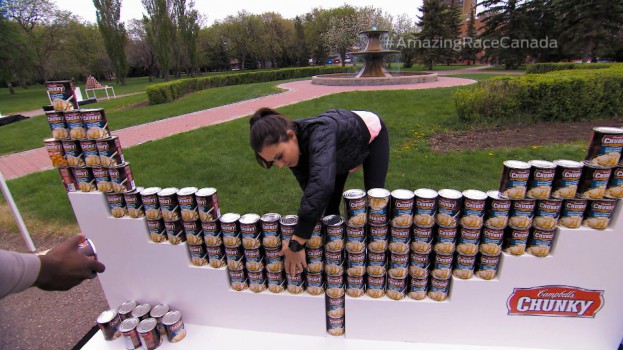 The nose-to-nose race for the top summer series in Canada rages on. CTV's The Amazing Race Canada pulled ahead of America's Got Talent once again to bring in the highest AMA (2+) of all nightly series in Canada. According to the latest Numeris report, which covers the week of Aug. 28 to Sept. 3, the Canadian original brought in 1.7 million average viewers on Tuesday night (growing its audience from the previous week, which sat at 1.61 million), beating out the competition show on City, which airs in the exact same time slot.
America's Got Talent's Tuesday night edition brought in 1.55 million viewers, while its Wednesday edition came in third with 1.52 million viewers.
Once again, the week was rounded out with two episodes of Global's Big Brother. The series' Sunday episode took in 1.28 million viewers, while its Thursday broadcast took 1.24 million viewers to land in fifth. All three of the major networks were represented in the week's top five.
In terms of special event programming, the documentary Diana, 7 Days on CTV performed the highest, taking in 1.02 million viewers nationally and coming in eighth.
For the French market, TVA's game show La poule aux oeufs d'or won the week once again, however it posted a small loss from its average audience the previous week (at 931,000 from one million). However, second-place finisher, SRC's Les chefs, grew its audience week over week, to 745,000 from 693,000.
Here are the top-ranked daily measured shows by market (AMA for all persons 2+), according to Numeris, for Aug. 28 to Sept. 3, 2017.
Canada
1. The Amazing Race Canada on CTV Tuesday at 8 p.m.: 1.7 million viewers
2. America's Got Talent on City Tuesday at 8 p.m.: 1.55 million viewers
3. America's Got Talent on City Wednesday at 8 p.m.: 1.52 million viewers
4. Big Brother on Global Sunday at 8 p.m.: 1.28 million viewers
5. Big Brother on Global Thursday at 9 p.m.: 1.24 million viewers
Montreal (anglophone)
1. America's Got Talent on City Tuesday at 8 p.m.: 73,000 viewers
2. America's Got Talent on City Wednesday at 8 p.m.: 58,000 viewers
3. Hollywood Game Night on CTV Tuesday at 10:01 p.m.: 57,000 viewers
4. Diana, 7 Days on CTV Friday at 8 p.m.: 56,000 viewers
5. The Big Bang Theory on Sunday at 7 p.m.: 49,000 viewers
Quebec (francophone)
1. La poule aux oefs d'or on TVA Wednesday at 7:30 p.m.: 931,000 viewers
2. Les chefs on SRC Monday at 8 p.m.: 745,000 viewers
3. Juste pour rire — Le gala incroyable on TVA Suinday at 6:30 p.m.: 678,000 viewers
4. Dimanche à Hollywood on TVA Sunday at 7:30 p.m.: 660,000 viewers
5. Refuge animal on TVA Monday at 7 p.m.: 603,000 viewers
Toronto/Hamilton
1. America's Got Talent on City Tuesday at 8 p.m.: 397,000 viewers
2. America's Got Talent on City Wednesday at 8 p.m.: 325,000 viewers
3. Big Brother on Global Sunday at 8 p.m.: 301,000 viewers
4. Big Brother on Global Thursday at 9 p.m.: 273,000 viewers
5. Big Brother on Global Wednesday at 8 p.m.: 237,000 viewers
Edmonton
1. The Amazing Race Canada on CTV Tuesday at 9 p.m.: 84,000 viewers
2. American Ninja Warrior on CTV Monday at 9 p.m.: 67,000 viewers
3. Big Brother  on Global Wednesday at 9 p.m.: 62,000 viewers
4. The Big Bang Theory on CTV Sunday at 8 p.m.: 61,000 viewers
5. America's Got Talent on City Wednesday at 9 p.m.: 57,000 viewers
Calgary
1. Amazing Race Canada on CTV Tuesday at 9 p.m.: 85,000 viewers
2. American Ninja Warrior on CTV Monday at 9 p.m.: 58,000 viewers
3. The Night Shift on Global Thursday at 8 p.m.: 50,000 viewers
4. Masterchef on CTV Wednesday at 9 p.m.: 48,000 viewers
5. America's Got Talent on City Wednesday at 9 p.m.: 43,000 viewers
Vancouver/Victoria
1. America's Got Talent on City Tuesday at 8 p.m.: 174,000 viewers
2. America's Got Talent on City Wednesday at 8 p.m.: 153,000 viewers
3. The Amazing Race Canada on CTV Tuesday at 8 p.m.: 144,000 viewers
4. Big Brother on Global Wednesday at 8 p.m.: 110,000 viewers
5. Diana, 7 Days on CTV Friday at 8 p.m.: 107,000 viewers