Four data takeaways from MIXX Canada
IAB Canada's annual event featured speakers and panels debating what data points are the most useful for advertisers and how it's changing the way agencies work.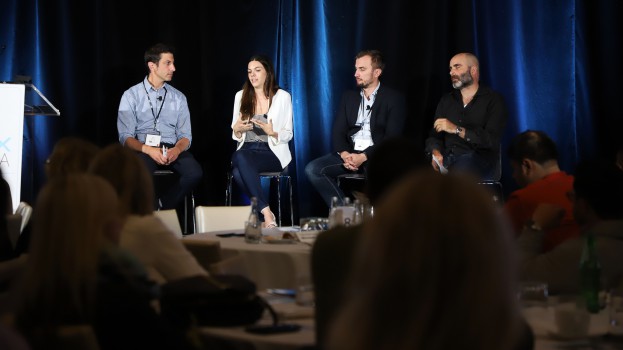 It seems every conversation in the advertising and media industry comes down to one common thread: data. The industry is full of it, but what can it do with all of it?
That was one of the questions the Interactive Advertising Bureau of Canada (IAB Canada) set to find out with its 2017 MIXX Canada event. The one-day conference featured keynotes, panels and demos to showcase the power of data in advertising — and identify where there were still gaps.
MiC has compiled four takeaways from the event, from the potential that data can deliver to how it's affecting day-to-day life at agencies.
1. Neural networks can influence more than creative
As artificial intelligence and neural networks become increasingly mainstream, numerous discussions have been had within the industry about how this technology can influence ad creative. However, in his introduction to machine learning and its effects on Canadian consumers, Adam Green, creative agency lead at Google Canada, showed that these capabilities can affect media delivery and targeting as well. Pointing to a recent Jaguar billboard ad in Moscow, Green explained how cameras on the digital billboard were able to process the cars that were driving by from the images alone, and update the billboard's creative based on the car-type. The result was creative that changed based on the perceived brand and value of the car they were driving. "With a camera and about $1,000 in API [application program interface], they were able to take the least targeted medium since skywriting… and turn it into a one-to-one conversation."
2. Viewers have wandering eyes
There are plenty of data points on video views out there, said RJ Pauloski, Canadian VP at video company Teads. However, Pauloski said in his speech on sound and motion data, that just because people are watching videos doesn't necessarily mean they're engaged, and there are other data sets, such as motion and memory that brands should be looking at. He took aim in particular at pre-roll ad units, which polls showed were considered disruptive by many consumers. "Pre-roll ads are considered the most intrusive unit," he said. "It sort of makes you wonder, why are we still doing things like [pre-roll]?" He added that Facebook's recent update to bring auto-play audio into video posts would likely not be popular. He showcased a study by Teads that had viewers wear eye-tracking headsets when browsing articles and watching videos, which showed that in pre-roll ads, 86% of viewers' time was spent looking at or for the "skip ad" button. He said another key piece of data to track is memory, and that video ads in premium content boast a higher peak memory rate than pre-roll and in-feed social video ads.
3. Data could spark major changes for the agency world
The day's closing panel featured representation from the agency side (MEC Canada's VP of digital Derek Bhopalsingh), brand side (Molson Coors Canada media lead Chaman Sandhu) and tech and analytics (Media IQ Digital's VP of sales Jason Furlano and COO Paul Silver). As the four discussed and debated the evolution of media planning and buying, numerous issues arose, from the changing expectations on talent to the increased trends of brands turning to consultancies and, of course, the rise of programmatic and data. All panelists agreed that agencies and media buying were at a point of major change (although Bhopalsingh added that the agency world is naturally cyclical).
Furlano said no amount of "clever" advertising — such as the interactive McDonald's U.K. ad featuring a clickable map showcased by Pauloski — were enough to compete with the rise in programmatic display and video. "I'm sorry, but I can't remember the last time I clicked on a McDonald's ad to find the location," he said. "I think programmatic and data, specifically, are the proverbial kick in the ass that the agencies might need."
With the increased demand for data and analytical knowledge within the agency landscape, Bhopalsingh said that agencies should continue to work with post-secondary institutions to scope out the kind of talent they want. However, he said, agencies shouldn't miss the opportunity to re-train within their existing work forces. "We have to look at upscaling the people we have within the agencies as well," he said.
4. In the end, it's about ROI
With the swaths of data pouring into agencies, tech companies and brands, Jed Schneiderman, founder of Tapped Mobile, cautioned the audience that not all data is useful. "I think data is one part of the puzzle," Schneiderman said during a panel on how data transforms the user experience (he added that he does not believe his company "transforms any user experience"). "I know it's crass, but the job is to help brands sell more stuff and make more money — the data is only good if it helps you make a decision that helps you make more money and sell more stuff."
Schneiderman pointed to an example of Tapped working with Apple and incorporating data from music detection service Shazam. "We use Shazam data to know what areas to tour in, what areas to invest in," he said. "We started to see a song gained popularity, and we told Apple they might want to consider doing something with it." That song turned out to be "Down" by U.S. pop and electronic artist Marian Hill, which ended up being featured in Apple's AirPods commercial. But Schneiderman added that there is numerous data Tapped observes that never ends up getting shared with clients because it's not useful. "If I have something that's completely irrelevant, I just don't call them."
Photo by MultiCultural Pulse