Wendy's holds the top: Media Monitors
The QSR purchased the most radio advertising in Toronto for the week of Sept. 11 to 17.
For the second week in a row, QSR Wendy's bought the most radio advertising in Toronto. According to the most recent Media Monitors report, which covered the week of Sept. 11 to 17, the restaurant brand held onto the top spot with a play count of 741.
It was followed  by two new entrants to the list, with Pizza Pizza at #2 and the Mercedes-Benz Dealer Association at #3.
Rogers moved down one spot to #4 from #3, and Ford held onto the #5 spot. The quick service restaurant was once again the largest category for ad buying in Toronto, purchasing 3234 spots (up from last week's 2992).
The top advertiser in Montreal was also unchanged, with CTV buying the most spots (577) for the second consecutive week.
CTV was followed by Tim Hortons, which climbed to #2 from #5 the previous week. New entrant Rona arrived at #3, while furniture retailer Brault & Martineau held the #4 spot for another week. In the #5 spot, Hudson's Bay made a big jump from #37 the previous week.
New entrants to the Montreal charts were Allstate (#8) and the Honda Dealer Association (#9). Overall, the largest category in radio buys for Montreal was the car and truck dealerships category.
Toronto:
By brand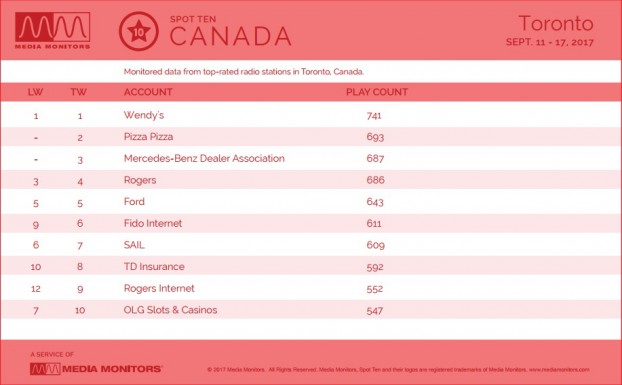 By category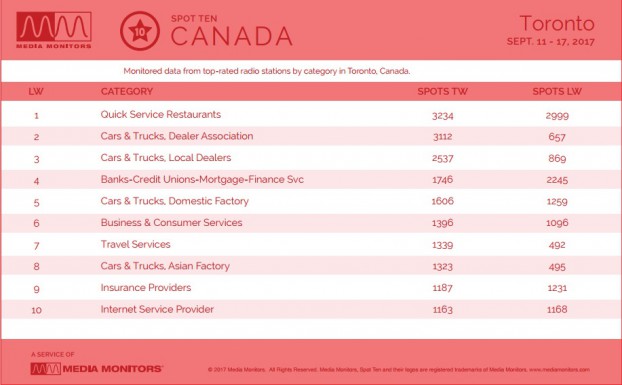 Montreal:
By brand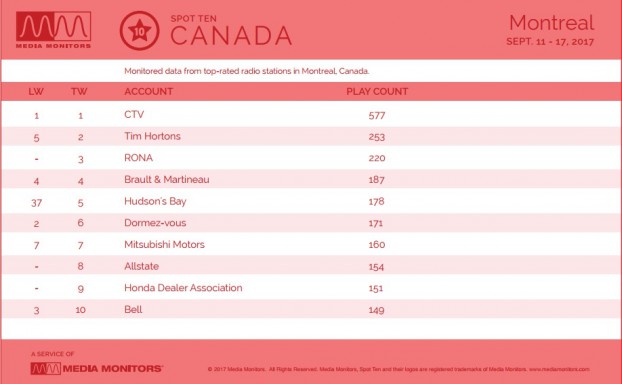 By category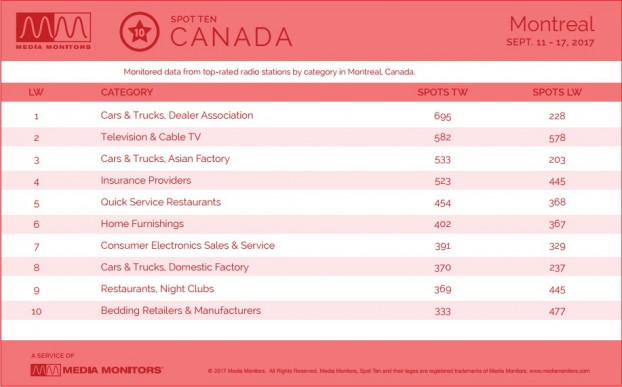 Image: Shutterstock