Emmy Awards ratings get modest boost
The boost to overnight ratings for Sunday's show breaks a few years of declines for viewership to the awards in Canada.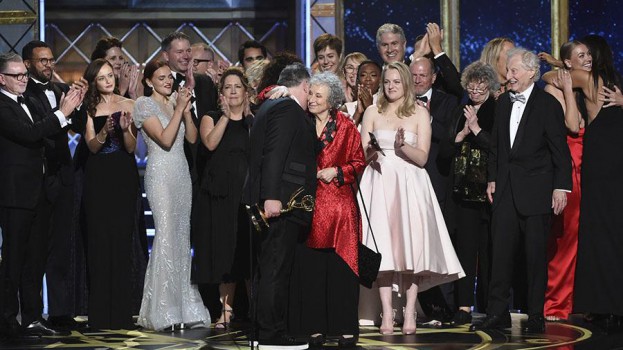 The moment that the cast and crew of The Handmaid's Tale, based on the novel by Margaret Atwood, accepted the Emmy Award for Best Drama Series was arguably a high point for Canadians. It was the fourth win of the night for the Hulu series (which broke ratings records on Bell Media's specialty net Bravo in Canada), and the drama, which was shot in Toronto, beat out high-profile competition like The Crown, Stranger Things and This is Us for the prize.

It also happened to be a high for Canadian ratings — that moment, at approximately 11 p.m., the broadcast of Sunday's Emmy Awards on CTV reached peak audience levels, with an average audience of 2.1 million people tuning in to watch Atwood and the rest of the team behind the series say their thanks.
Overall, the average minute audience (2+) for Sunday's ceremony saw a small increase over last year, up to 1.7 million from last year's overnight AMA of 1.59 million. It saw boosts in the core demos of adults 18 to 49 (7%) as well as adults 25 to 54 (19%). The final AMA calculated (after seven days) for last year's ceremony was 1.69 million.
This year's ceremony broke the streak of a few years of ratings declines. The 2016 AMA was a 9% drop over the previous year's average (1.85 million), which was a 21% drop from its 2014 ratings (2.32 million).
Stateside, Sunday's awards were approximately even with viewership for 2016, which had represented an all-time low for the show. According to U.S. reports, viewership averaged 11.4 million in the country, compared to 2016′s 11.3 million. The ratings share for adults 18 to 49 did drop to 2.5 from 2.8.
According to Bell Media, the ceremony was the #1 program for the day in terms of AMA. Competition from other networks in the 8 p.m., 9 p.m. and 10 p.m. time slots included The Nature of Things, Montreal in Symphony and The National on CBC, NCIS, MacGyver and Hawaii Five-O on Global and The Orville, Best of Vice Canada and Payday on City.
Photo: Emmys