Amazing Race Canada holds at the top: Numeris
The reality show, and most of the country's top five programs, posted gains over the previous week's audiences.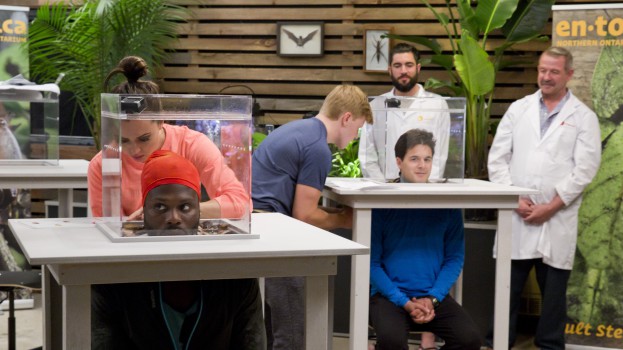 The latest Numeris report, which covers the week of Sept. 4 to 10, showed that even as September has ushered in, little has changed in the TV landscape — the top five single-night programs for the highest AMA (2+) remained static from the previous week.
The penultimate episode of The Amazing Race Canada came in first with an average of 1.72 million viewers. It was followed by two episodes of America's Got Talent, which drew an average of 1.58 million (Tuesday) and 1.5 million viewers (Wednesday). Rounding out the week were two episodes of Big Brother, which pulled in 1.35 million (Sunday) and 1.29 million viewers (Thursday).
While the placements did not change, all of the top five programs besides the Wednesday edition of America's Got Talent boasted slight gains over the previous week's average audiences.
The top spot did vary between markets — America's Got Talent took Toronto/Hamilton, Vancouver and Calgary, while The Amazing Race Canada topped the Edmonton charts and the Saturday edition of CTV News tied with America's Got Talent at the top in Montreal.

In the Francophone market, TVA's Sunday night special announcing its new fall season (hosted by comedian Patrice Bélanger) took the top spot, with 1.18 million viewers. The network's much-loved game show, La poule aux oeufs d'or came in second (after spending two weeks at the top). However, it did grow its audience to 990,000 from 931,000.
Here are the top-ranked daily measured shows by market (AMA for all persons 2+), according to Numeris, for Sept. 4 to 10, 2017.
Canada
1. The Amazing Race Canada on CTV Tuesday at 8 p.m.: 1.72 million viewers
2. America's Got Talent on City Tuesday at 8 p.m.: 1.58 million viewers
3. America's Got Talent on City Wednesday at 8 p.m.: 1.5 million viewers
4. Big Brother on Global Sunday at 8 p.m.: 1.35 million viewers
5. Big Brother on Global Thursday at 9 p.m.: 1.29 million viewers
Montreal (anglophone)
1. CTV Evening News Weekend Edition on CTV Saturday at 6 p.m.: 61,000 viewers (tie)
1. America's Got Talent on City Tuesday at 8 p.m.: 61,000 viewers (tie)
3. America's Got Talent on City Wednesday at 8 p.m.: 56,000 viewers
4. Masterchef on Wednesday 8 p.m.: 54,000 viewers (tie)
4. The Big Bang Theory on CTV Thursday at 8 p.m.: 54,000 viewers
Quebec (francophone)
1. La rentré TVA 2017 on TVA Sunday at 7:30 p.m.: 1.18 million viewers
2. La poule aux oefs d'or on TVA Wednesday at 7:30 p.m.: 990,000 viewers
3. Spécial bloopers on TVA Monday at 7 p.m.: 910,000 viewers
4. Unité 9 on SRC Tuesday at 8 p.m.: 835,000 viewrs
5. En direct de l'univers on SRC Saturday at 6:30 p.m.: 822,000 viewers
Toronto/Hamilton
1. America's Got Talent on City Tuesday at 8 p.m.: 418,000 viewers
2. America's Got Talent on City Wednesday at 8 p.m.: 382,000 viewers
3. The Amazing Race Canada on CTV Tuesday at 8 p.m.: 275,000 viewers
4. The Big Bang Theory on CTV Thursday at 8 p.m.: 267,000 viewers
5. Masterchef on CTV Wednesday at 8 p.m.: 246,000 viewers
Edmonton
1. The Amazing Race Canada on CTV Tuesday at 9 p.m.: 95,000 viewers
2. Big Brother on Global Sunday at 9 p.m.: 79,000 viewers
3. America's Got Talent on City Tuesday at 9 p.m.: 77,000 viewers
4. America's Got Talent on City Wednesday at 9 p.m.: 70,000 viewers
5. American Ninja Warrior on CTV Monday at 9 p.m.: 66,000 viewers
Calgary
1. America's Got Talent on City Wednesday at 9 p.m.: 67,000 viewers
2. American Ninja Warrior on CTV Monday at 9 p.m.: 64,000 viewers
3. Amazing Race Canada on CTV Tuesday at 9 p.m.: 63,000 viewers
4. Highway Thru Hell on Discovery Tuesday at 10 p.m.: 58,000 viewers
5. Big Brother on Global Sunday at 9 p.m.: 54,000 viewers
Vancouver/Victoria
1. America's Got Talent on City Tuesday at 8 p.m.: 175,000 viewers
2. America's Got Talent on City Wednesday at 8 p.m.: 169,000 viewers
3. The Amazing Race Canada on CTV Tuesday at 8 p.m.: 145,000 viewers
4. NFL late broadcast on CTV Sunday at 1:23 p.m.: 119,000 viewers
5. The National on CBC Sunday at 10 p.m.: 115,000 viewers