Canadian Living unveils redesign
The new design and editorial shift aims to keep older readers happy while reaching more of the millennials that have grown into its core demo.
Female-targeted lifestyle title Canadian Living has unveiled a new design and a revamped editorial focus. The changes are aimed at keeping its older readers happy while reaching more of the millennials that have grown into its core demo.
Publisher Jacqueline Howe spoke to MiC about the changes, which were officially premiered at a private event in Toronto on Sept. 19. Updates include a new logo, the slogan "Real life made simple" on the cover, redesigned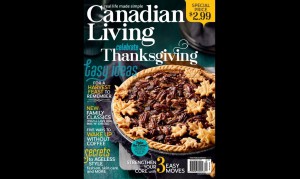 headlines, deks and lead-ins to the stories, and a re-calibration of the magazine's editorial content.
The balance of editorial was reshaped to give a larger emphasis on food content — the magazine, according to Howe, is now 38% food, up from 25%. The share of fashion and beauty has also increased, now at 30% up from 25%. She said that while health and wellness has been reduced to 15% from 20%, much of it overlaps with other content, such as food. On average, she said, home and garden occupies about 10% of the content, however she said it will fluctuate more throughout the seasons (it previously represented 20% of the magazine).
The changes came following a subscriber study distributed to 7,000 readers in late April of 2017. Howe said the best feedback it received was for the food content, and that readers liked having content that felt like they had a "personal curator or concierge," rather than longer editorial pieces.
The key, she said, was pleasing the increasingly diverse demographic of women age 35+. She said that while the oldest of millennials are now moving into the magazine's sweet spot, it was imperative to also appeal to women at the older end of the demographic scale. "We do have a very loyal group of readers in that area of the demographic," she said.
While there won't be any new specific ad products for the magazine yet, Howe said the new design appears to be tracking well with advertisers, with sales for the upcoming  November issue up 9% year-over-year. She said ad sales for the year-to-date 2017 have been down year-over-year.
The magazine's website will also be updated, with a greater increase on video content, with new responsive wallpaper ad units to roll out at the end of September.
The magazine will also increase its annual consumer marketing budget. It will continue with its direct mail and free-standing newspaper inserts, and add new digital video ads, standard and responsive digital spots and two 10-second television promotions. It will also promote at key retailers and newsstands.
Canadian Living boasts a circulation rate of 418,678 total issues per year. According to the latest Vividata rankings, it boasts a combined print and digital reach of 3.9 million readers per issue, with 3.41 million coming from print.