Why Cadillac Fairview is teaming up with the Olympics
Company SVP of marketing Jason Anderson on why the unusual sponsorship deal matters.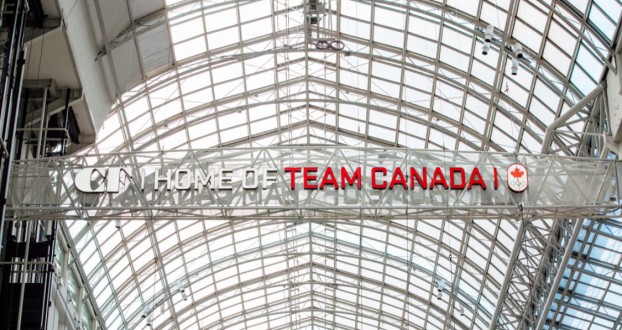 Sponsorships deals aren't typical for malls, but that's why exactly Cadillac Fairview has signed one.
The property company, which owns several major shopping centres across Canada, announced this week it had signed an 11-year partnership with the Canadian Olympic Committee in a landmark deal that names Cadillac Fairview as the Official Home of Team Canada.
That home is a literal one for the Canadian Olympic Committee, which will now be headquartered at Cadillac Fairview's 250 Yonge St. office tower in Toronto, part of the company's CF Toronto Eaton Centre.
But, Jason Anderson, SVP of marketing, Cadillac Fairview, said more important than that, the deal is also part of a larger play for the company to bring its shopping centres to life around areas that Canadians are interested in.
"We are investing in having the best shopping centres and office buildings," he said. "But we also know we need to bring those buildings to life with meaningful experiences."
The deal will include consumer experiences and viewing opportunities around the upcoming the Olympic Winter Games PyeongChang 2018. In between Olympics, the partnership will mean opportunities for programming to support Canadian athletes and build the passion that the Olympic Games and Canadian Olympic Committee are known for.
The sponsorship, which is the largest that Cadillac Fairview has on the go currently, was done in conjunction with MKTG, North Strategic, BlueBlancRouge, Traffik and Ideo.
Anderson said the reality is that shopping centres aren't often in the business of signing large sponsorship deals, adding that Cadillac Fairview often looks outside its industry, to others like technology companies and the hospitality industry for inspiration.
"We recognize that consumers have choice and this is a world with a lot of change in it," he said. "The choices that consumers have won't hurt all malls, but will hurt the ones that don't change. We want to do things that excite shoppers and their friends and families."
Images: Bettina Bogar