Spotted! Grand Marnier's speakeasy
After being acquired by Gruppo Campari in 2016, the brand has shifted its media spend from social to sponsorship and experiential.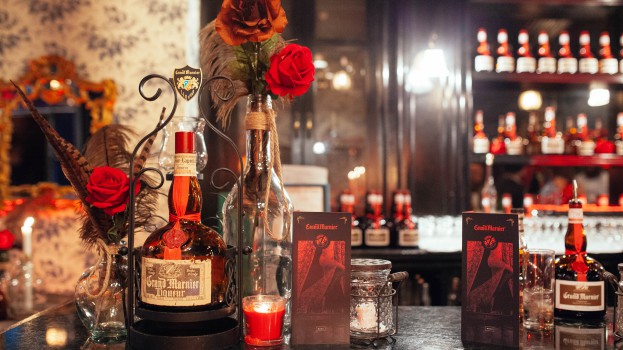 Liqueur brand Grand Marnier is doing double-duty with its latest marketing effort, trying to raise brand awareness and age its demo down slightly — and it's doing so through a series of super-secret speakeasies.
The first two-night event was held Sept. 19 and 20 in Old Montreal, with other events being held in Toronto, Vancouver and Calgary in the coming weeks. The speakeasies are known as the "Cordon Rouge" rooms, where users can register online and receive the location and password texted to them upon sign-up.
Since the alcohol brand was purchased by Gruppo Campari in 2016, its new parent company has been looking at how to make better use of its media budget, said Alyssa de Bartolo, senior brand manager for Grand Marnier.
"The year before we took on the brand, all of their media dollars were focused on Facebook advertising," she said. "A few years before there was a small TV campaign, but basically all of the ad dollars have been on Facebook."
As a result, de Bartolo said, "for the past five to 10 years, the brand has kind of fallen into the background." She said that surveys of consumers and bartenders have shown that awareness of the brand is high, but few know what kind of cocktails it's used in.
De Bartolo said the brand hasn't engaged in much traditional media spend this year. However, it has begun focusing more on event sponsorships and tasting trials. "We've started to focus on doing anything to just get the cocktail into people's hands, creating an atmosphere where people are actually able to try it." She added that it has done some small Facebook and Instagram spending, but most of the dollars have gone to event sponsorship and the new experiential campaign with the Cordon Rouge rooms.
The first night of the event in each city is intended for influencers and media (with The Substance Group on experiential and Your Brand Integrated Marketing Communications on media relations). The second night is for consumers and has been promoted entirely through Grand Marnier's social channels. The next event (in Toronto) is currently sold out.
De Bartolo said the locations for the clubs (which are secret for now) are picked based on centrality, however the intention is to attract a group of consumers in the 30 to 45 age range. She said Grand Marnier is currently most popular in the 55+ demographic.
While de Bartolo said the numbers for the Montreal event were not yet available, she said the event operated at capacity.
Grand Marnier did not work with a media buying agency on the activations.