Ad Week: How should media agencies adopt AI?
A panel of experts discuss the benefits of embracing the little things and finding the right partnerships.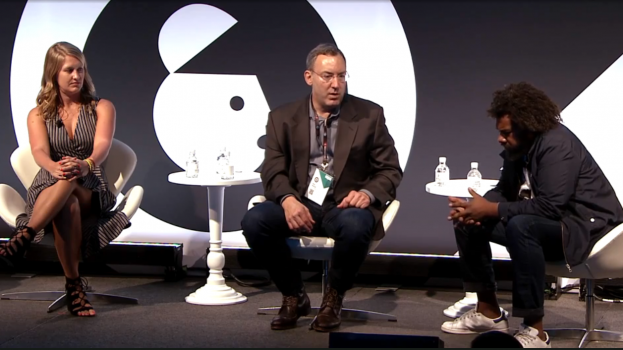 Artificial intelligence can be as intimidating as it is buzz-worthy. But a panel of execs at New York Advertising Week offered a few easy ways for media agencies to enter the space.
Their advice: use it to bolster what you're already doing. Not only is it the best way to on-board AI, but it's the most fruitful.
"The tools we use today are still going to be used into the foreseeable future, but I do see AI enhancing those," said Rick Watrall, chief analytics officer at Horizon Media (pictured above in the middle). He's examining how AI can improve existing processes, like determining data integrity. "In my role, [data integrity] is job one, so something as simple as that is going to be life changing."
Watrall said focusing AI tech on on things that may be basic functions at media agencies but are a big deal to clients is one of the best ways to get tech-wary clients on board. Because while some clients might not be ready for the more advanced applications of AI like smart personal assistants or adaptive targeting, every brand needs to make sure their data reporting is in check.
The Ad Week panel agreed, however, that one of the hardest things media agencies face when it comes to AI is handling all the pitches from companies touting their AI product as the one, best solution. Watrall said such a pitch is probably untrue, and probably not the best way to go about using it. Instead, he looks at all the AI tools on offer as "raw material."
"Out-of-the-box is not getting you what you want," he told Ad Week attendees. Instead, he sees companies finding success by using different AI vendors for research, segmentation, planning and the like. "We'll work with any and all companies that provide the right solution for our client, and I think that's the way to go about it."
Erin Rech (above left), head of digital at Initiative, added that while an understanding of AI is necessary for media professionals, no agency should be attempting to be a one-stop shop and shouldn't be afraid of partnering with other companies to find the right solution.
"If you have any homework, it is to understand the basics of how [AI works], because that's how you unlock its potential," she said. "Then, you find someone who can build it for you. At big agencies, it's hard to do those kinds of things quickly."
To that end, Watrall added that his company has trained its analysts to make them more effective at dealing with vendors.
"You have to know the landscape and everything that's out there, because you're not going to be able to supply your clients with every single thing," he said "My analysts have changed from the person who can write our code, but on top of that are also someone who can sit in front of vendor and really absorb what they're doing, what their value proposition is and cut through the shit."
Also pictured: Bonin Bough, host of CNBC's Cleveland Hustles and former chief media and ecommerce officer at Mondelez International.