Spotted! The LCBO opens its first pop-up
The liquor retailer creates an educational experience in downtown Toronto.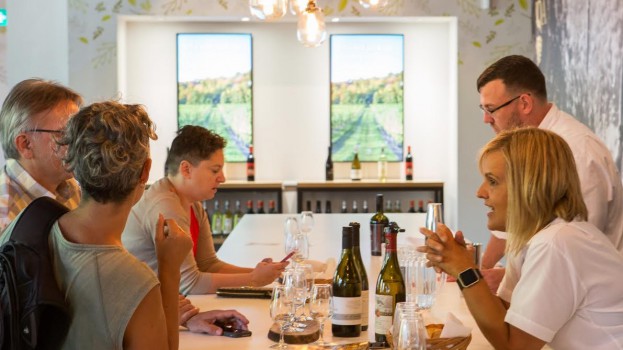 The LCBO, Ontario's liquor retailer, has opened its first pop-up store, targeting millennials with an experiential launch in downtown Toronto.
The pop-up, which opened to the public last week, will feature a rotating selection of LCBO products for visitors to learn more about, taste and purchase. It launched with a slate of Ontario wines, will turn into a selection of whisky in mid-October and then into a food and drink theme when the LCBO launches its holiday campaign for November and December.
The launch of the pop-up is part of the LCBO's "Fall for Craft" campaign, its annual promotion that highlights Ontario VQA wines.
Visitors will be able to learn more about select products with a "lift and learn" area that displays information about a given product on a screen when it picked up. The space will also play host to drop-in and ticketed events like concerts, flight tastings, chocolate making with Purdy's Chocolatiers, painting workshops and guest winemakers.
Kerri Dawson, VP of marketing for the LCBO, said the Crown corporation launched the pop-up because it's an opportunity to educate customers on a more one-on-one basis than it typically can in-store. She added that the pop-up allows for the new experiences that millennials are often seeking out when shopping.
"Millennials aren't just looking for a quick sale," she said. "When they walk into the store, they want an interaction with experts. They want to touch, feel and taste it."
The pop-up is being promoted with a targeted campaign of wild postings, radio spots and owned and paid social media posts in downtown Toronto, said Dawson.
"The LCBO generally hopes to reach its entire product base. But because we are in this specific space with this curated product selection, we can target more closely than we normally do."
Media for the pop-up shop was from PHD, with creative from Bensimon Byrne, radio spots from KBS and digital experiences from Big Digital.
Dawson said the LCBO was happy with the pop-up's opening weekend attendance of approximately 700 visitors. She added that the concept might be expanded into other large Ontario markets, such as Ottawa, in 2018.