Rogers announces Hometown Hockey's sponsor lineup
Five brands return and three new partners join the community engagement platform.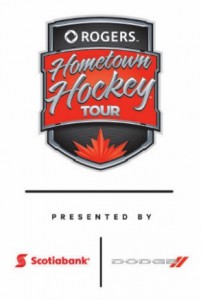 The fourth season of Rogers Hometown Hockey is about to hit the road, and the media company has unveiled its full sponsor lineup for this year's program.
Hometown Hockey serves as the Sunday night NHL broadcast on Rogers' Sportsnet platform, but also as a community engagement platform in the form of a national tour that celebrates local hockey culture. This year will include visits to 24 Canadian cities.
Both Rogers and Sportsnet are listed among the sponsors, with Rogers getting its name above the show's title yet again.
Returning as presenting sponsors are Scotiabank and Dodge. Both will see their brands integrated into broadcast components and on-the-ground activations.
Scotiabank serves as the broadcast's first-period sponsor and will again run its "Community Locker Room" on the tour, giving out jerseys customized to each location. Dodge, meanwhile, will be presenting sponsor of the broadcast's "On The Road" feature that profiles NHL stars. During the tour, it will run the "Slow 'n Go Challenge" as a contest to win a new 2018 Pacifica and a $5,000 prize for a local hockey team.
Dr. Oetker will again provide free pizza to those who visit the 24-city tour and sponsor the "My Hometown" featurette during the Sunday night broadcast, while OK Tire presents event attendees with a game to change the tires on a Zamboni like a Formula 1 pit crew. Playmobil sponsors the on-site Kids Zone, which includes several hockey-themed challenges.
As new sponsors, Tim Hortons and Bauer Hockey will provide rinks and hockey equipment for pickup games of ball hockey during the Canadian tour. Tim Hortons also sponsors the slow-motion replays during the NHL broadcasts. The third new sponsor, AMJ Campbell, will provide behind-the-scenes logistics.
Anthony Attard, VP sales for sports and NHL at Rogers Media, says last season's Hometown city tour saw a 20% increase in audience, and interest in having the tour visit cities is increasing as well. While there is no formal process for cities to apply to be a tour stop, Attard says Rogers constantly receives calls from municipalities asking to be included.
Revenue attached to the Hometown platform across both TV and tour packages have increased "north of 10%" year over year, Attard said, although Rogers does not break out specific revenue data between the broadcast and on-site activations.