Spotted! American Express's Kensington eatery
The credit card company took a temporary foray into the food business, promoting its new card with a pop-up restaurant.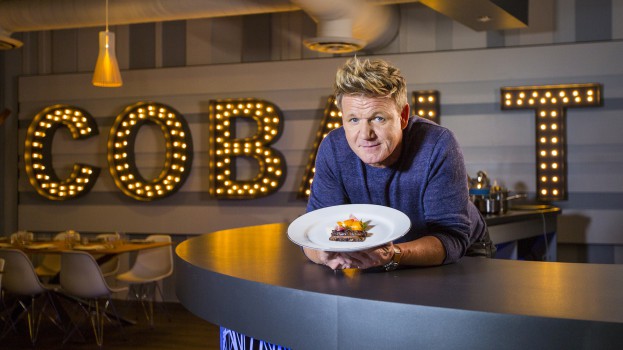 It's common for food brands to promote themselves through pop-up restaurants; in the last year, MiC has seen hip-yet-temporary ventures into food service from the likes of Delissio, Classico, Häagen-Dazs and more. But Toronto's latest branded pop-up restaurant doesn't come from a food brand at all — it's from credit card company American Express.
American Express opened The Cobalt Social for a week in Toronto's quirky Kensington Market neighbourhood with some famous names behind it. The restaurant featured specially created menus from celebrity chef Gordon Ramsay and locals Antonio Park and Matty Matheson.
According to David Barnes, VP of advertising and communication with American Express, tickets to the restaurant (which were only available online) sold out within 15 minutes of its launch.
For those unable to make it to the restaurant in person, limited quantities of Ramsay's dishes were also made available for free this week through UberEats.
Barnes said that, strategically, the pop-up wasn't just about connecting with millennials because they're known to enjoy good food. The restaurant was conceived to highlight a feature on American Express's newest card product, the Cobalt Card. It's marketed toward urban-dwelling millennials, and one of its key features is to offer five times the rewards on any food-related purchases.
The Cobalt Social is the first time Amex has created a pop-up restaurant, and Barnes said its strategy is all about the social media buzz.
"The restaurant is almost like a Trojan horse through which we can communicate the message of the campaign," he said. American Express's new customers are typically in their mid-40s, so Barnes said the campaign is going "all-out" to capture millennials' attention.
The broader campaign for the Cobalt Card, entitled "You Do You," involves heavy investments in digital and social, with more than 75 influencers and celebrities (including Toronto Blue Jay Marcus Stroman) appearing in social content. Barnes said OOH in urban areas is also part of the investment.
Mindshare handled media for the campaign, with North Strategic on PR and influencer relations, BT/A on experiential, Notch Video on social and Ogilvy on creative.