Jenn-Air brings chefs to the table
A new Canadian-made content series seeks out English and French luxury shoppers.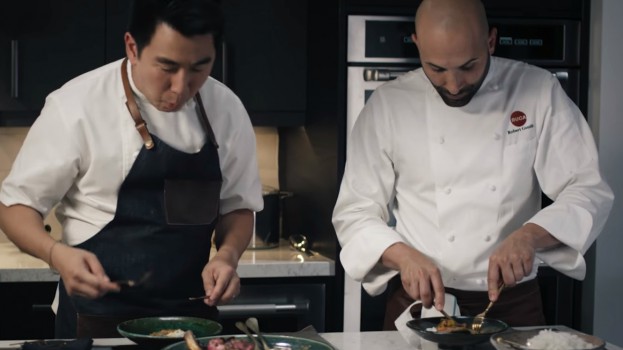 Jenn-Air, a challenger brand in the upscale kitchen appliance market, has released a Canadian branded content series to better reach luxury consumers.
The series includes episodes hosted in English and French by prominent Canadian chefs exploring the culture of fine dining. Rob Gentile, culinary director of Toronto restaurant Buca, and Jonathan Garnier, chef and founder of Montreal's La Guilde Culinaire, host the series.
The brand is seeking more immediate and intimate communication with potential customers than is afforded by a mass media campaign, said Janice Ryder, senior marketing manager at Jenn-Air. It's using branded content "to engage more deeply with the audience to tell a story. It enabled us to show how culinary innovators trust the performance of Jenn-Air appliances to create fine dining dishes from across the globe."
Both series features chefs of Thai, Japanese and Mexican cuisine not only explaining the cultural relevance of their disciplines, but showing how Jenn-Air stove tops perform to their exacting standards. Each video runs approximately four minutes with an accompanying 30-second teaser.
The series is posted to the brand's YouTube channel and on Jenn-Air's Canadian website, but is primarily promoted through Instagram posts and Instagram Stories on Jenn-Air's accounts. Some of the participating chefs also posted content from the series to their Instagram accounts, which was then amplified by spending from the brand.
The message will be further promoted through influencer dinners hosted by the series' chefs in Montreal and Toronto over the next six weeks.
Cossette handled media duties. Toronto agency Zulu Alpha Kilo and its content arm, Zulubot, worked with Free Society on the content series, while H+K Strategies is overseeing PR and the influencer events.