District M focuses on mobile with new ad unit
The new unit, Touch, features minimal creative in order to blend in for the mobile age.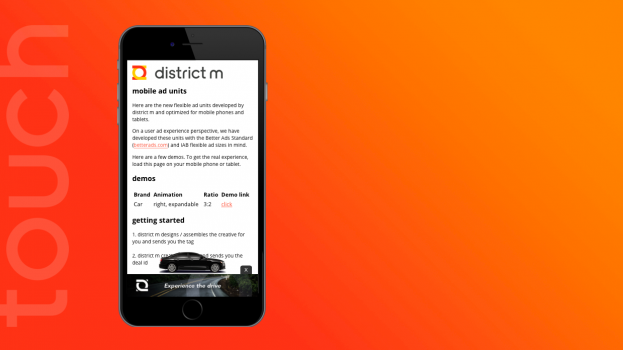 Montreal-based programmatic ad tech company District M is launching a new ad unit for mobile.
The new unit, named Touch, will float on the edges of mobile web pages (bottom or side), which CMO Adrian Pike said makes it more discreet.
"We wanted to design something with a user experience that isn't too distracting but is still engaging," said Pike. The ad is still somewhat interactive and can move as the user scrolls (for example, a picture of a car on an auto ad can move back and forth along the bottom of the screen as the user scrolls up and down).
But beyond that, Pike said, users have to opt in to Touch ads, and users will have to tap on the small unit to be directed to a larger splash page with more information (static or video). The standard Touch unit that appears on the mobile page (which has the option to be closed) has otherwise minimal creative.
Pike said it was crucial for District M to develop more mobile products as the online programmatic marketplace has shifted significantly more toward mobile.
"The mobile marketplace is not going anywhere," said Pike. "It's going to get bigger every day, and as a company we're challenged to make our product work in a smaller space."
A recent study from comScore shows that 59% of Canadians' online minutes are spent on mobile, up from 52% two years ago.