Air Canada lands at the top: Media Monitors
Although Air Canada purchased the most radio spots, the highest category buyers in Toronto were car and truck dealer associations.
Sunwing Vacations was replaced at the top of the Toronto radio buying charts with another airline, Air Canada. The company took the top of the Media Monitors Charts for the week of Oct. 9 to 15, with a total play count of 892.
It was followed by Staples, which moved up two spots, and Rogers Internet, which held steady at #3. Sunwing Vacations, which led the chart for two weeks in a row, landed at #4, with the top-five rounded out by Pizza Pizza (making a major jump up from #87).
Also new to the Toronto charts was Spence Diamonds, coming in at #8.
As far as advertiser categories went, car and truck dealer associations bought the most airtime, doubling its spots from the previous week.
In Montreal, CTV took the top spot for the third week in a row. IGA moved up one spot to #2, followed by new entrants Rona and Air Canada. Rounding out the list was Bride & Groom Canada, holding the fifth spot for the second week in a row. The Honda and BMW Dealers Associations were new entrants to the list, at #6 and #10 respectively.
While television and cable TV remained the highest category buyer for another week, fewer spots were purchased by advertisers in the category (565, down from 628).
Toronto:
By brand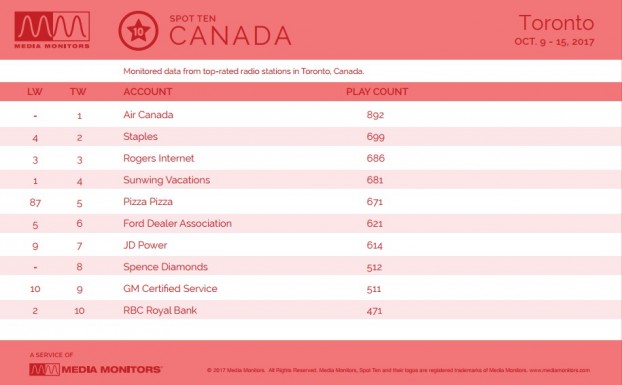 By category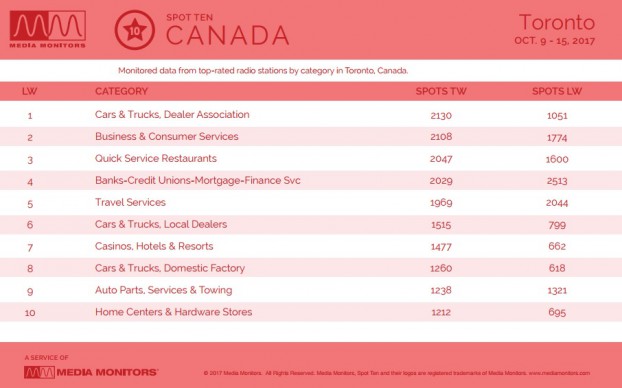 Montreal:
By brand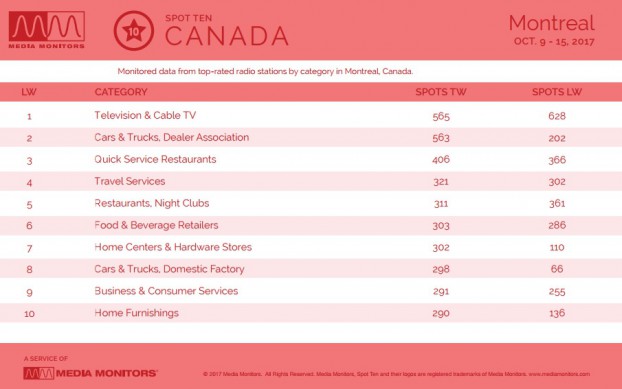 By category