Air Canada stays on top: Media Monitors
The airline bought the most radio advertising in Toronto for the second week in a row.
Air Canada stayed on top of the Media Monitors charts from Oct. 16 to 22, buying the most radio advertising space in Toronto for the week. This was the second week in a row for Air Canada on top.
In second place was QSR Pizza Pizza, which rose from #5 the previous week. New entrants the Acura Dealer Association and Honda took the third and fourth spot, while Rona made the jump to #5 from #15, rounding out the top of the list.
Also new to the charts this week were TD Insurance (#7), Hudson's Bay (#8) and Cadillac (#10). Car and truck dealer associations stayed on top as the largest category buyer for the week.
In Montreal, new entrant Hudson's Bay made its debut at #1 on the charts, while previous chart-topper CTV fell off the top 10 after three weeks leading the field. Another new entrant, RBC Royal Bank, took #2.
The third and fourth spots were taken by furniture retailer Brault & Martineau (up from #20) and the Discovery Channel (up from #38), respectively. The top-five was closed out by yet another new entrant, CraveTV.
Other new entrants were Pharmaprix (#6) and the Nissan Dealer Association #7).
Just as in Ontario, car and truck dealer associations were the top-buying category in Montreal, after three weeks of television and cable buying the most spots.
Toronto
By brand: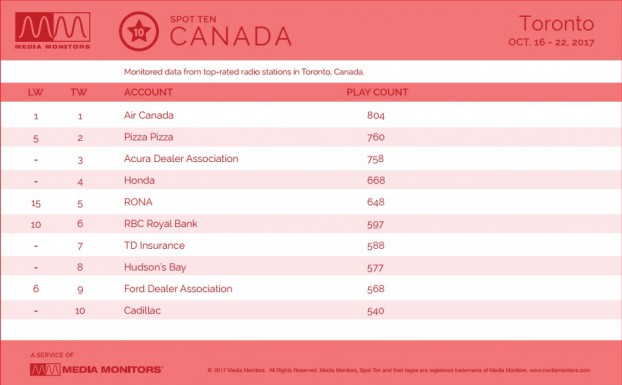 By category: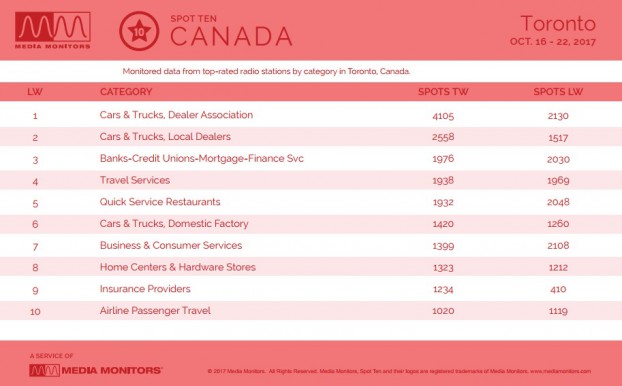 Montreal
By brand: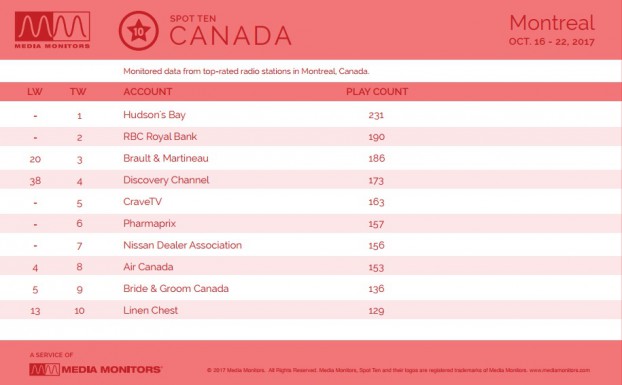 By category: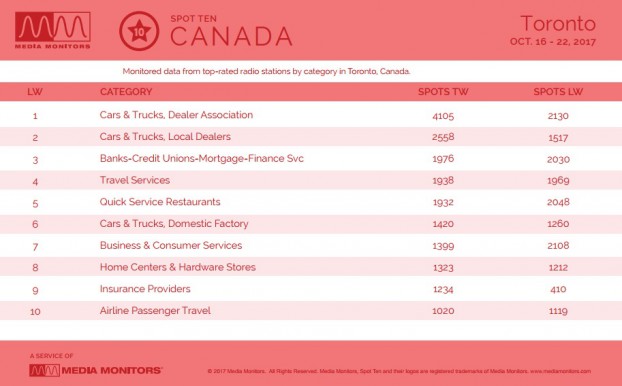 Image courtesy of Unsplash