Spotted! Calgary's street-level Amazon strategy
A bid for the tech giant's second HQ gets underfoot and overhead in Seattle.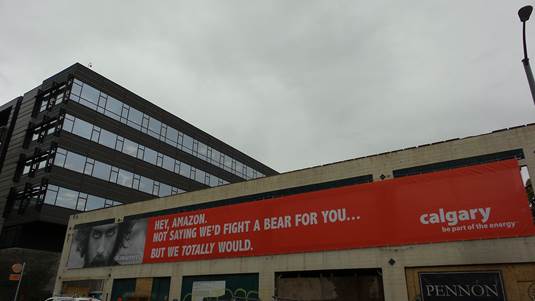 It's rare that MiC dives into a Spotted south of the border, but one campaign that made its way stateside managed to make a big splash. And Lisa Corcoran knows that it's a rare occasion.
"It's really hard for a Canadian city to break into the U.S. media cycle," said Corcoran, VP of marketing and communications with Calgary Economic Development.
The organization recently went to Seattle to offer Calgary's bid to be the location for Amazon's highly coveted second headquarters. When Seattle-based Amazon first announced its plan to open a second home, Corcoran told MiC the announcement "pretty much set everyone who works in economic development into an RFP frenzy."
She expected all cities to get creative and perhaps put some paid media behind it. But Calgary went for an approach that was a little less conventional.
The campaign touched down in Seattle on Oct. 19. Its main focus was a 120-foot banner ad in the middle of Amazon's downtown campus, which showcased that Calgarians would fight a bear for Amazon if it came down to it. Surrounding the neighbourhood were numerous sidewalks covered in graffiti with similar over-the-top offers ("Hey Amazon, we'd change our name for you!"). Full-page ads with similar messages appeared in the Seattle Times along with a geotargeted digital campaign in the Washington Post.
The effort, which also included digital videos and an RFP book that used AR elements, was the work of numerous agencies: Evans Hunt (which worked on the media buying, digital media and the bid book), Joe Media (video), Critical Mass (strategy) and Mammoth VR.
Corcoran said that while the goal of the campaign is to attract Amazon's attention, promoting Calgary for talent and investment is something that she hopes to achieve regardless of Amazon's decision.
"We've been really making our way into the U.S. market to promote Calgary, and hopefully with the media attention this picks up, it will create some momentum." The campaign has been covered by The Seattle Times, The New York Times, The Verge, Recode, and Business Insider.

In terms of media spend, Corcoran said, it's on par with the types of campaigns Calgary's Economic Development department normally does. She said that the department was already planning on doing a campaign around this time, but was initially targeting Silicon Valley.