Spotted! Global brings S.W.A.T. to the neighbourhood
Despite the adult appeal of S.W.A.T., the activation targeted kids and families to capture curious parents.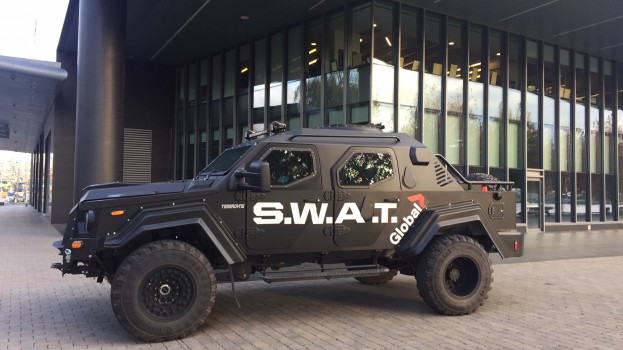 Corus Entertainment took to the streets on Halloween to market one of its priority shows for the fall, S.W.A.T. 
On Oct. 31, Global reps cruised Toronto in a branded S.W.A.T-style Hummer to promote the police procedural's  Nov. 2 premiere.
Jim Johnson, VP of marketing for Global Entertainment, news and radio, told MiC the activation was timed with Halloween to connect with fans in the context of neighbourhood safety, introducing the show to new fans in the adults 25 to 54 range.
While S.W.A.T. is undeniably for mature audiences, the activation was centered around kid and families. Geared-up ambassadors stopped in Toronto neighbourhoods to hand out mini flashlights to adults and tote bags for children, as well as postcards autographed by the show's star, Shemar Moore.
Johnson said the three key audiences the network is targeting with S.W.A.T. are police procedural fans, fans of the Fast & Furious franchise (the pilot was directed by Fast & Furious' Justin Lin) and fans of star Shemar Moore. While Moore himself wasn't present for the activation, Global teamed with a lookalike brand ambassador to hand out the postcards.
Corus mainly promoted the activation through its own outlets, such as The Morning Show, Global News and its Toronto radio stations. A social media hashtag contest (which will see one random winner awarded a Sony Electronics prize pack) was also promoted through on-air spots in Toronto. Moore also touted the efforts through his Instagram and Twitter accounts.
S.W.A.T. is also being promoted through billboards, transit advertising, radio, online and social in major metropolitan markets. While Global did not work with a media buying agency on the activation, it paired with MPossible Events for the experiential aspect.