Spotted! Subway gets artsy for World Sandwich Day
To spread awareness of its World Sandwich Day charity, the QSR has deployed local artists in Toronto and Montreal.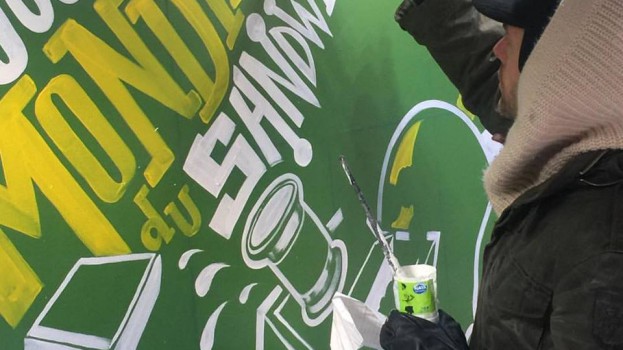 Some colourful murals popping up in Toronto and Montreal may seem like a collection of eclectic images, but the murals are actually part of a broader effort by Subway to promote its charitable efforts on "World Sandwich Day" on Nov. 3.
The QSR commissioned Toronto-based muralist Andrea Manica to travel around Toronto in a custom-fitted art truck on Nov. 1 and 2 to erect murals in downtown Toronto. They include Subway's branding and images of its sandwiches, but also depict customers donating to food banks.
In Montreal, a similar activation is taking place with artist Jason Botkin (pictured).
Subway created World Sandwich Day last year as part of a partnership with Food Banks Canada. During the day, anyone who buys a sub and drink at Subway will get one free additional sandwich for a friend and another will be donated to someone in need. This is the first time Subway has promoted World Sandwich Day through an experiential stunt.
Cristina Wells, senior marketing director for Subway Canada, said the chain chose to go the experiential route as a way of driving immediate engagement and putting Subway in the top of mind for consumers. Subway's overall goal is to donate one million meals in Canada.
Subway restaurants around the globe will also participate with similar events.
The locations chosen for the murals – Queen and Peter Streets, David Pecaut Square and Yonge-Dundas Square, among others – were selected because of their highly central and public locations, which Wells said resulted in a lot of curious passersby.
The murals are currently in progress, and later today, Subway Canada will host a live feed of Manica's mural painting on Twitter.
World Sandwich Day will also be boosted through paid media on TV, radio and digital. Additionally, a digital video of Manica's painting process will be created and distributed throughout Subway's online network in the coming weeks. Subway paired with Carat on the media buy, Veritas on PR and the experiential activation, and Sid Lee on the traditional creative. Subway also worked with experiential agency Jam Van.
Following the completion of the murals, they will be donated to various food banks.