Fido takes the top: Media Monitors
The auto industry remains dominant in Toronto, while CTV goes big in Montreal.
Fido Solutions shot up to #1 as the top buyer of radio advertising in Toronto last week. After previously coming in at #13, the mobile provider topped the Media Monitors charts for the week of Oct. 30 to Nov. 5.
That was followed by the Ford Dealers Association, which climbed up from #6, and new entrant HP.
Sunwing Vacations held the #4 spot for another week, while Canadian Blood Services entered the list at #5.
Also new to the Toronto charts was Esso at #10.
Last week's top category buyer, car and truck dealer associations, bought less than half of what it had purchased the previous week and fell to #3. The new category on top was public service and organizational advertisers, purchasing 1980 spots.
CTV continued to hold Montreal's top spot. Furniture retailer Brault & Martineau climbed two spots to land at #2, while the Breakfast Club of Canada entered the list at #3. Telus advanced three spots to #4, and Dormez-Vous shot up to #5 from #55.
Pharmaprix and La Grande Dégustation de Montréal were both new to the list, at #6 and #7 respectively.
Despite CTV's continued reign at the top of the list, the television and cable category slipped out of Montreal's top spot this week and was replaced by the auto parts, service and towing category.
Toronto
By brand: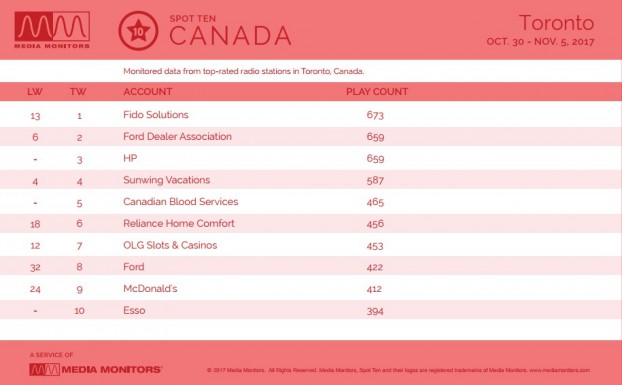 By category: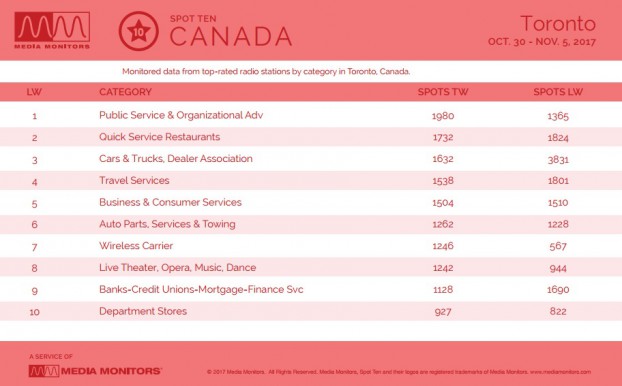 Montreal
By brand: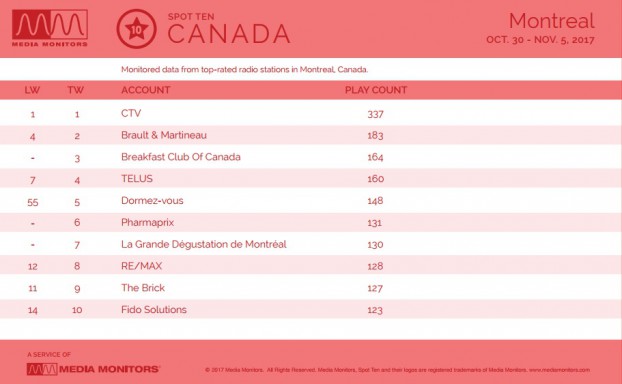 By category: