Manulife becomes title sponsor for Ride for Heart
The insurance company has taken the reigns from Becel, which served as title sponsor for 20 years.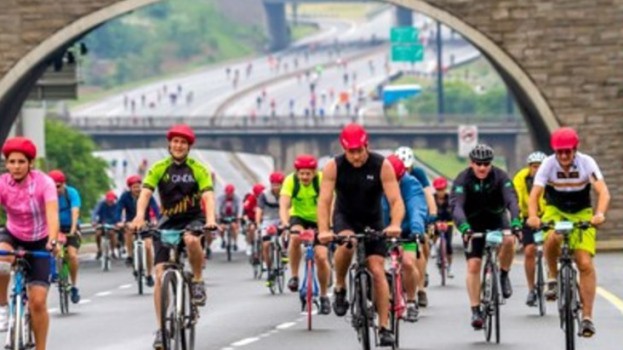 Manulife has signed on as the new title sponsor of the Heart and Stroke Foundation's Ride for Heart.
The newly branded event will debut June 3, 2018, The financial and insurance company will hold the title sponsorship position for the next three years.
Becel had been the title sponsor of the event for the last 20 years. But Manulife has played a role in the Ride before, according to Mary Desjardins, assistant VP of philanthropy and sponsorship with Manulife. Manulife served as the event's title sponsor for its launch event in 1988.
The Ride for Heart is an annual event held in Toronto where participants can walk, run or ride their bikes up the Gardiner Expressway and Don Valley Parkway to raise funds for heart-related research.
The sponsorship, said Desjardins, is part of Manulife's overarching brand strategy to align with healthy living initiatives. Other sponsorships in this strategy include serving as the premiere partner for Participaction's Canada 150 "play list," a challenge for Canadians to partake in uniquely Canadian physical activities and sports. It's also the presenting sponsor of Montreal's Bixi bike share program.
It's also promoted its own products through sport-infused campaigns and experiential stunts, like a boxing ring activation featuring Michael "Pinball" Clemons to promote the Manulife Vitality product.
The Heart and Stroke sponsorship was brokered without the use of an agency.
Desjardins said details on the marketing campaign to promote the partnership are still being finalized.