Big Bang makes gains: Numeris
The CTV comedy took the top spot in the nation again, but The Good Doctor continues to gain on it.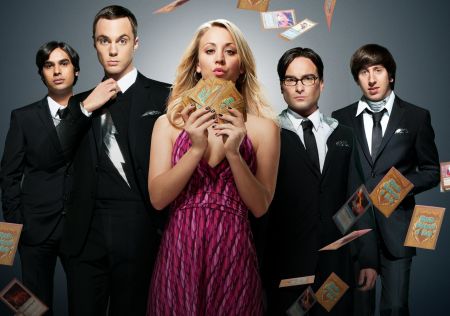 The Big Bang Theory made a small gain in its average audience and remained at the top of the Numeris charts for one more week.
According to the charts, which measured the week of Oct. 23 to 29, the CTV comedy pulled in an average minute audience of 3.01 million, beating out all other single-night broadcasts for the week.
Big Bang has remained in the top spot since its new season dropped last month. It was followed once again by CTV's medical drama The Good Doctor, which continued to grow its audience up to 2.75 million.
The top five was rounded out by Global, with NCIS, Survivor and Bull nabbing the third, fourth and fifth spots.
As was the case the previous week, Big Bang won all Anglophone markets with the exception of Vancouver/Victoria. There, The Good Doctor once again took the top spot. Both tied for the top spot in Montreal's Anglo market.
In the Francophone market, TVA's reality competition series La voix junior continued to lead the pack for the sixth straight week, pulling in an audience of 1.91 million and gaining over the previous week.
Canada
1. The Big Bang Theory on CTV Monday at 8 p.m.: 3.01 million viewers
2. The Good Doctor on CTV Monday at 10 p.m.: 2.75 million viewers
3. NCIS on Global Tuesday at 8 p.m.: 2.08 million viewers
4. Survivor on Global Wednesday at 8 p.m.: 2.05 million viewers
5. Bull on Global Tuesday at 11:00 p.m.: 1.99 million viewers
Montreal (Anglophone)
1. The Big Bang Theory on CTV Monday at 8 p.m.: 113,000 viewers (tie)
1. The Good Doctor on CTV Monday at 10 p.m.: 113,000 viewers (tie)
3. This Is Us on CTV Tuesday at 9 p.m.: 74,000 viewers
4. Law and Order: SVU on CTV Wednesday at 9 p.m.: 73,000 viewers
5. Star Trek: Discovery on Space Sunday at 8 p.m.: 68,000 viewers
Quebec (francophone)
1. La voix junior on TVA Sunday at 7 p.m.: 1.91 million viewers
2. Unité 9 on SRC Tuesday at 8 p.m.: 1.53 million viewers
3. L'échappée on TVA Monday at 8 p.m..: 1.32 million viewers
4. La vraie nature on TVA Sunday at 9:06 p.m.: 1.2 million viewers
5. Boomerang on TVA Monday at 7:30 p.m.: 1.13 million viewers
Toronto/Hamilton
1. The Big Bang Theory on CTV Monday at 8 p.m.: 758,000 viewers
2. The Good Doctor on CTV Monday at 10:00 p.m.: 599,000 viewers
3. Bull on Global Tuesday at 9 p.m.: 529,000 viewers
4. Hockey Night in Canada on CBC Saturday at 7:16 p.m.: 508,000 viewers
5. NCIS on Global Tuesday at 8 p.m.: 472,000 viewers
Edmonton
1. The Big Bang Theory on CTV Monday at 9 p.m.: 195,000 viewers
2. Oilers vs. Stars on Sportsnet Thursday at 7:08 p.m.: 151,000 viewers
3. NCIS on Global Tuesday at 9 p.m.: 93,000 viewers
4. The Good Doctor on CTV Monday at 8:01 p.m.: 93,000 viewers
5. Hockey Night in Canada on CBC Saturday at 7:54 p.m.: 90,000 viewers
Calgary
1. The Big Bang Theory on CTV Calgary Monday at 9 p.m.: 169,000 viewers
2. The Good Doctor on CTV Monday at 7:00 p.m.: 145,000 viewers
3. NCIS on Global Thursday at 9 p.m.: 105,000 viewers
4. Grey's Anatomy on CTV Thursday at 9 p.m.: 91,000 viewers
5. Bull on Global Tuesday at 10 p.m.: 78,000 viewers
Vancouver/Victoria
1. The Good Doctor on CTV Monday at 10:01 p.m.: 226,000 viewers
2. NCIS on Global Tuesday at 8:00: 182,000 viewers
3. The Big Bang Theory on CTV Monday at 8:00 p.m.: 177,000 viewers
4. Canucks vs. Capitals on Thursday at 7:08 p.m.: 167,000 viewers
5. Bull on Global Tuesday at 9:00 p.m.: 141,000 viewers