Casper becomes the Maple Leafs' sleep sponsor
Activations inside the ACC will give the online retailer more visibility in a key Canadian market.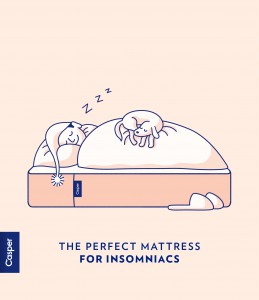 The Toronto Maple Leafs have their first ever "sleep partner" now that they've signed mattress brand Casper as an official sponsor.
Casper's visibility in Canada has been growing steadily since they became available in 2014. Consumers likely first heard about the mattress-in-a-box brand via podcasts, the media of which it remains a constant ad supporter. Torontonians now see ads on subways too (right), promoting the delivery bed as being perfect for just about anyone.
But Casper's market is a competitive one, with the Canadian-born Endy brand investing rigourously in search marketing against Casper and brick-and-mortar retailers like Sleep Country competing on product.
Casper has invested in some pop-ups and a retail deal, but the Leafs' sponsorship will provide the online retailer with, arguably, its biggest opportunity to be seen. As the team's new "sleep partner," Casper will be activating at the team's home arena, the Air Canada Centre, conducting in-game engagements and product giveaways.
This marks the brand's first sports sponsorship (it sponsored the 2017 Juno Awards in April), which is contracted to run until at least the end of the current NHL season in June.
A Casper spokesperson said Toronto is an ideal market for such a sponsorship as it is a centre for "culture, sports and entertainment."
"Casper has had a strong presence and customer base in Canada since our launch and we take enormous pride in our commitment to the Canadian market," said Nicole Tapscott, Casper's general manager in Canada, in a statement. "Our partnership with the Toronto Maple Leafs allows us to take that commitment a step further by increasing awareness around the importance of sleep and one's daily performance — bringing more restorative sleep to fans and players alike."