People Moves at SlimCut, TVA and more
Campsite, Bleublancrouge and SlimCut Media have bolstered their sales teams, while Quebecor has shuffled its leadership.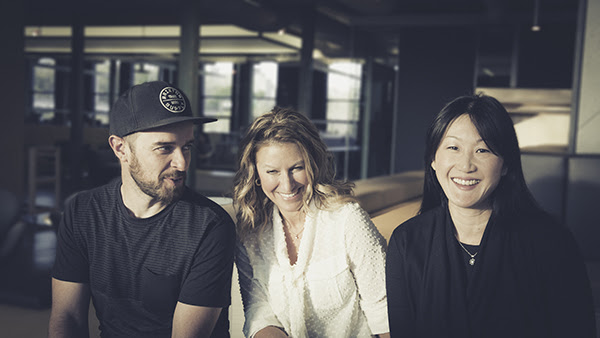 Pictured: BBR's Laurence-Etienne Hillman, Annie Morad and Natalie Wu.
Quebecor, TVA Group promotes from within
France Lauzière, the newly minted president and CEO of TVA Group and chief of content for Quebecor Content, has made a number of promotions and appointments to fill gaps and add support following the retirement of former CEO Julie Tremblay. Former VP of acquisitions and international development Yann Paquet has been promoted to VP of Quebecor Content. Paquet has also promoted Christine Maestracci to senior director of acquisition, taking on a bigger leadership on the acquisitions team which she has been a part of for four years. Lastly, director of administration Ariane Lahière has added financing to her title and responsibilities.
Within TVA Group, former Quebecor content managing director Martin Picard has been named to a newly established VP position at TVA. He will assume responsibility for programming, communications, marketing and TVA's film division.
SlimCut adds four in sales
SlimCut Media has added four new faces to its Canadian sales operation. New team members include Isabelle St. Amour, Melyssa Wright, Brandon Cleary and Jaclyn Levesque. St. Amour will take on the role of director of sales in the Quebec territory, while Wright, Cleary and Levesque will work with agencies and clients in the rest of Canada. The new team's experience includes time at Postmedia (St. Amour), StackAdapt (Wright), Clear Channel (Cleary) and Twitter Canada (Levesque). The four were appointed to meet the growing demand for SlimCut's various outstream and social advertising products.
Campsite bolsters business development team
Programmatic OOH ad company Campsite has promoted Éva Pusztahegyi. Pusztahegyi has been part of Campsite as an account manager for the buy and supply sides since its 2016 launch. Now she has been promoted to business development manager with the company. She has also held positions for Olive Media and Adcentricity, also specializing in digital OOH. Campsite also hired former Newad account manager Jessica Dodd as a new business development manager.
Three new faces at BBR
Bleublancrouge has hired on three new directors. Account director Natalie Wu has joined the agency's Montreal team with more than 15 years experience in the agency world (including agencies One Twenty Three West, Dare and BBDO). Past accounts managed include Johnson and Johnson, Motorola, Pfizer, Procter and Gamble and Destination BC. New group account director Annie Morad will work on the agency's Quebec Toyota Dealers Association account. On top of agency experience, Morad has worked in the automotive field as a director with Toyota Canada. Laurence-Etienne Hillman, who previously worked with BBR as a producer, has returned to the agency as production director of innovation and events. Between his tenures at BBR, Hillman worked as an experiential producer with Sid Lee.