Ford cruises to the top: Media Monitors
The auto industry once again dominated as Toronto's biggest category buyer, while the TV category was back on top in Montreal.
The Ford Dealers Association bought the most radio advertising in Toronto for the week of Nov. 6 to 12. It climbed one spot from the previous week on the Media Monitors chart.
It was followed closely by HP, which also climbed a single spot over last week. In the third place spot was Esurance, which made a big leap from #40 the previous week. The top-five was rounded out by new entrants Air Canada and BMW.
Car and truck dealer associations once again were the top buying category with 1818 spots purchased.
In Montreal, CTV stayed put, as did Brault & Martineau, holding their respective #1 and #2 positions. The #3 entrant, Telus, moved up a single spot from the previous week. The next five entrants to the list were all new to the charts: Shoppers Drug Mart, Air Canada, Sleep Country Canada, Linen Chest and CTV News.
Television and cable TV were back on the top of the charts as the biggest category buyers, increasing its play count to 459 from 353.
Toronto, by brand: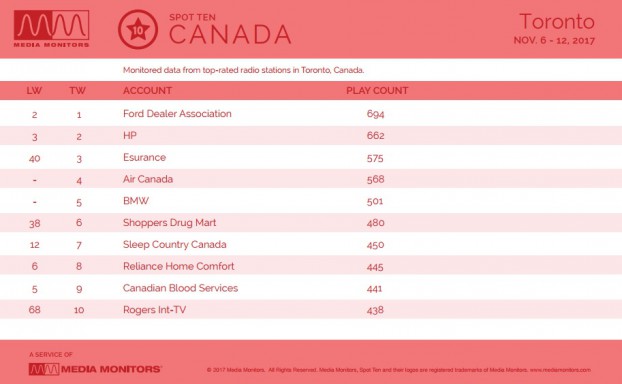 Toronto, by category: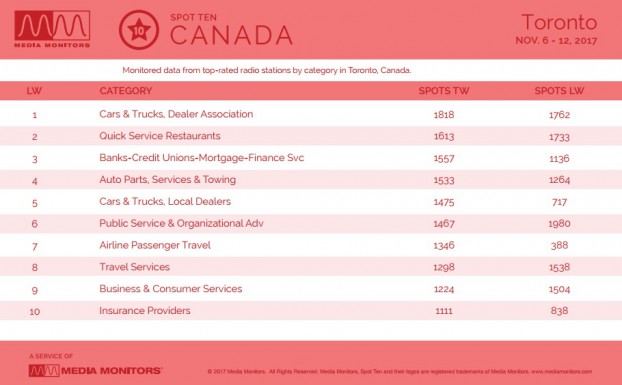 Montreal, by brand:
Montreal, by category: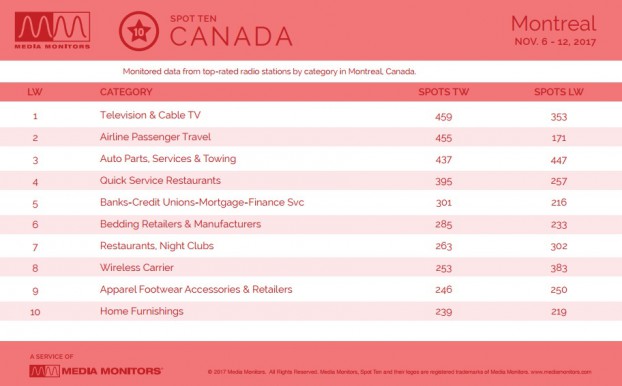 Photo: Unsplash