Big Bang double header takes the top: Numeris
Young Sheldon also came back with a (smaller) bang to knock The Good Doctor out of second place.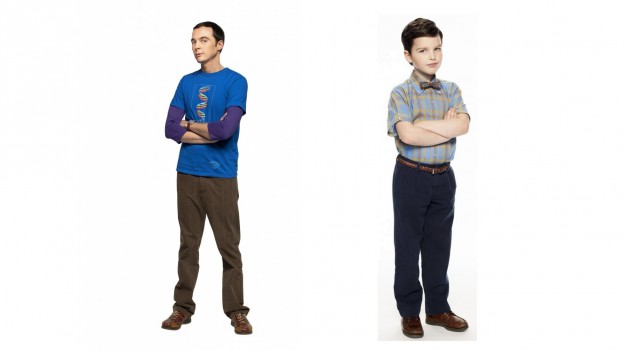 It should come as no surprise that The Big Bang Theory topped the Numeris charts for yet another week. The comedy on CTV not only pulled in the highest average minute audience for all single-night programs of the week of Oct. 30 to Nov. 5 (undefeated since its Season 11 premiere in September), it made major gains over the previous week. Approximately 3.5 million Canadians tuned in to the program.
But its prequel, Young Sheldon, was not far behind. The series, which immediately follows Big Bang on Thursdays, pulled in an AMA of 2.92 million for the week. Its premiere in September pulled off similar numbers, but the show's official season kicked off Nov. 2.
It pulled in enough of an audience to kick The Good Doctor out of its familiar second-place spot, although the medical drama still pulled in 2.6 million viewers, down just slightly from the 2.75 million it earned the previous week.
The top five was rounded by two Global shows, NCIS and Survivor with 2.07 million and 2.02 million viewers respectively.
Big Bang, Young Sheldon and The Good Doctor remained closely placed across all the country, although the Big Bang itself took the top spot in all Anglophone markets. It even took Vancouver, where The Good Doctor had reigned #1 for the last two weeks.
In the Francophone market, TVA's reality competition series La voix junior continued to lead the pack for the seventh straight week, however it pulled in slightly fewer viewers than its previous broadcast, with 1.72 million.
Canada
1. The Big Bang Theory on CTV Monday at 8 p.m.: 3.5 million viewers
2. Young Sheldon on CTV Thursday at 8:31 p.m.: 2.92 million viewers
3. The Good Doctor on CTV Monday at 10 p.m.: 2.6 million viewers
4. NCIS on Global Tuesday at 8 p.m.: 2.07 million viewers
5. Survivor on Global Wednesday at 8 p.m.: 2.02 million viewers
Montreal (Anglophone)
1. The Big Bang Theory on CTV Thursday at 8 p.m.: 122,000 viewers
2. The Good Doctor on CTV Monday at 10 p.m.: 93,000 viewers
3. Young Sheldon on CTV Thursday at 8:31 p.m.: 91,000 viewers
4. This Is Us on CTV Tuesday at 9 p.m.: 78,000 viewers
5. Designated Survivor on CTV Wednesday at 10 p.m.: 64,000 viewers
Quebec (francophone)
1. La voix junior on TVA Sunday at 7 p.m.: 1.72 million viewers
2. Unité 9 on SRC Tuesday at 8 p.m.: 1.53 million viewers
3. L'échappée on TVA Monday at 8 p.m..: 1.18 million viewers
4. Boomerang on TVA Monday at 7:30 p.m.: 1.06 million viewers
5. Mémoires vives on SRC Tuesday at 9 p.m.: 1.01 million viewers
Toronto/Hamilton
1. The Big Bang Theory on CTV Thursday at 8 p.m.: 693,000 viewers
2. The Good Doctor on CTV Monday at 10:00 p.m.: 644,000 viewers
3. Young Sheldon on CTV Thursday at 8:31 p.m.: 610,000 viewers
4. Bull on Global Tuesday at 9 p.m.: 511,000 viewers
5. Designated Survivor on CTV Wednesday at 10 p.m.: 413,000 viewers
Edmonton
1. The Big Bang Theory on CTV Monday at 9 p.m.: 202,000 viewers
2. Young Sheldon on CTV Thursday at 8:31 p.m.: 141,000 viewers
3. NHL Hockey on Sportsney Wednesday at 8:43 p.m.: 111,000 viewers
4. Star Trek: Discovery on Space Sunday at 8 p.m.: 101,000 viewers
5. S.W.A.T. on Global Thursday at 8 p.m.: 93,000 viewers
Calgary
1. The Big Bang Theory on CTV Calgary Monday at 9 p.m.: 162,000 viewers
2. Young Sheldon on CTV Thursday at 8:31 p.m.: 151,000 viewers
3. The Good Doctor on CTV Monday at 7:00 p.m.: 149,000 viewers
4. Grey's Anatomy on CTV Thursday at 9 p.m.: 96,000 viewers
5. NCIS on Global Thursday at 9 p.m.: 94,000 viewers
Vancouver/Victoria
1. The Big Bang Theory on CTV Thursday at 8:00 p.m.: 233,000 viewers
2. Young Sheldon on CTV Thursday at 8:31 p.m.: 215,000 viewers
3. NCIS on Global Tuesday at 8:00: 189,000 viewers
4. The Good Doctor on CTV Monday at 10:01 p.m.: 174,000 viewers
5. NCIS: New Orleans on Global Tuesday at 7 p.m.: 168,000 viewers