CFL division finals draw larger audiences
Viewership was up 19% nationwide, with stronger showings in the winning cities of Toronto and Calgary.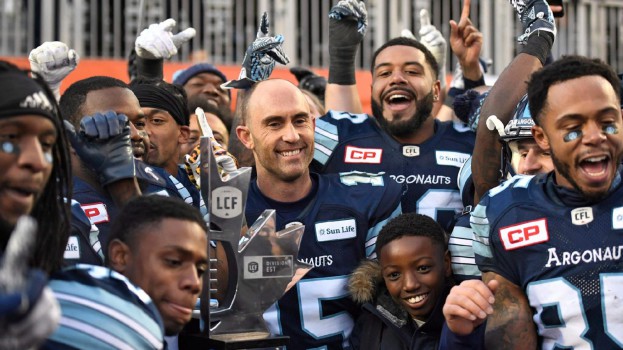 Bell Media is reporting strong TV audiences for last weekend's CFL division finals that paved the way for this Sunday's Grey Cup between the Toronto Argonauts and the Calgary Stampeders.
The doubleheader matchups for the Eastern (Saskatchewan vs. Toronto) and Western (Edmonton vs. Calgary) division finals found an average audience of 1.4 million viewers on TSN and RDS, according to overnight Numeris numbers. That marks a 19% overall increase over last year's matches. Bell Media says six million people watched one of the games at some point.
Predictably, viewership in the winning cities was particularly strong. In the Greater Toronto Area, both games garnered a 115% increase in viewers over last year. In Calgary, audiences for the two games were up 31%, taking the top two ratings spots for the weekend (in Toronto, the games rounded out the top three behind Sunday's American Music Awards broadcast on sister station CTV).
The Argonaut's match (which saw the Boatmen steal victory with a drive at the end of the fourth quarter) found an average audience of 1.5 million, and the Stampeders win over the Eskimos averaged 1.4 million.
Breaking down viewership demos, Bell reports a 39% increase among A18-34, a 27% bump in A18-49 and a 16% increase among A25-54.
The CFL concludes its season with the Grey Cup in Ottawa on Nov. 26. TSN begins its coverage with the pre-game show starting at 1 p.m. with the game's broadcast starting at 6:30 p.m.