Mark's is back with Grey Cup Radio Network
The third consecutive year with the TSN Radio-led network continues the clothing retailer's CFL activation plan.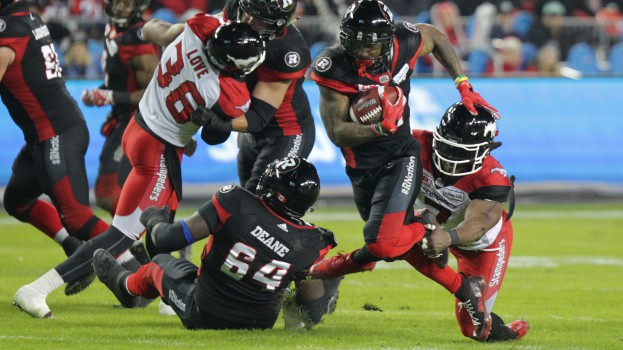 Clothing retailer Mark's is back for a third consecutive year as the presenting sponsor of the CFL's Grey Cup Radio Network.
First signing on in 2015, Mark's will have its name attached to the 24-station network broadcasting Sunday's CFL championship match starting at 4 p.m. EST.
The retailer has been active with the CFL as of late, hosting an off-season fan appreciation event called Mark's CFL Week in Regina back in March. The event featured current and former players, coaches and the Grey Cup itself. Mark's will host a second edition in 2018 in Winnipeg.
Hitting various frequencies across the AM and FM dial, the Grey Cup Radio Network is led by seven of Bell Media's TSN Radio stations (those in Toronto, Montreal, Ottawa, Hamilton, Winnipeg, Edmonton and Vancouver) with 17 local stations completing the national coverage area. TSN's Rod Black and Giulio Caravatta will call the game across all stations.
The network's audio stream will also be accessible online at TSN.ca/Radio. The game's digital audience saw growth last year, with live-streaming video up 35% over 2015 (social media activity also saw an upswing).
Last year's game saw an average TV audience of 3.9 million viewers (3.6 million from TSN, 254,000 from RDS) and a total of 10 million unique viewers. That broadcast hit its highest mark at 5.7 million viewers. The average minute audience was down from the 2015 game, which saw 3.8 million average viewers on TSN and 230,000 on RDS.